Last month I guided 30 of Vancouver's wine trade through a tour and tasting of South Africa.
Over the course of two hours, and 18 wines, we chatted about what's driving South Africa's wine revolution, and why I find the country to be the most exciting in the wine world today. I've summarized my presentation below, including the wines that were poured at the seminar as well as 60 other South African wines I've tasted recently.
This is the golden age for South African wine, fueled in equal parts by sustainability, regionality, old vines and young winemakers. Though wine has been made for more than 350 years (first plantings date back to 1659), it wasn't until the end of Apartheid and the start of a democracy in 1994 that the floodgates – for both wine and knowledge – were opened. These past two decades of freedom have opened the wine world to South Africa, and vice versa. For the first time, growers and winemakers were able to travel outside the country, learn, experience and taste. Wine export and import shackles relaxed, allowing for the flow of information as much as for wine. South Africa exports around 450 million litres of wine, farms over 100,000 HA of vineyard, and is the 9th largest producer of wine in the world.
Next Generation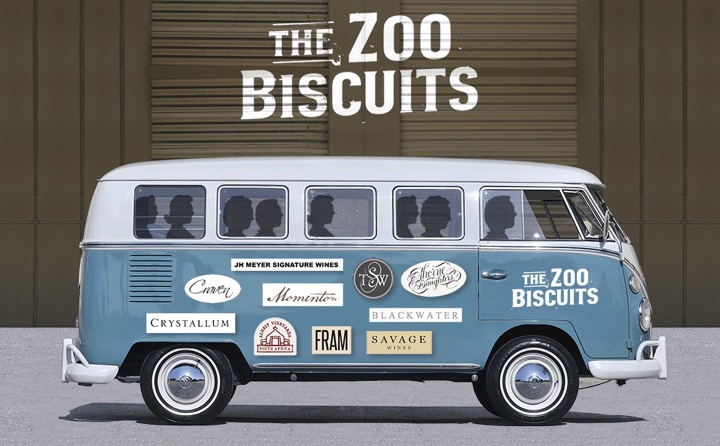 Today there is a league of youthful, travelled and passionate winemakers, many in their late twenties and early thirties, who are driving change. Camaraderie and collaboration runs high, with collectives such as PIWOSA (Premium Independent Wineries of South Africa), Swartland Independent Producers, and Zoo Biscuits banding together for marketing, touring and resource pooling. Many of these talented folks run senior positions at large, established wineries while developing their own brands. Vineyard land, especially pockets of older, heritage vines in exciting fringe areas, is still relatively affordable, encouraging experimentation and a garagiste wine culture. These vintners are championing the kinds of wines that are exciting adventuresome sommeliers and drinkers the world over. Fresh, lower alcohol reds and textured, higher acid whites; natural winemaking; reviving heritage vines; terroir exploration; pet nat; traditional method fizz – just a few darling, available and accessible finds. Quality is very high and prices are low – a unicorn find.
Old Vines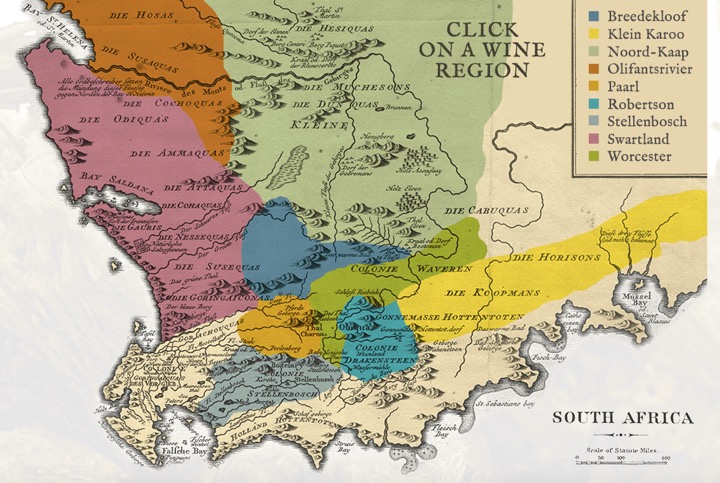 Expanded wine education available to South Africans is key to the current quality boom, driving a better understanding of viticulture and the rediscovery of abandoned heritage grapes. Although local terroir expert Rosa Kruger also attributes the changes to the greater understanding of site, soils and grapes. For the last decade, Kruger has been mapping the old vines in the Cape, building a registry of vineyards which is now accessible on her www.iamold.co.za website (see her map above). A lawyer by trade and an adventurer at heart, Kruger has helped match winemakers who share her vision of vine preservation and terroir expression to specific sites. Some of the most lauded names in Cape winemaking today are a result of her pairing: Eben Sadie, Chris and Andrea Mullineux, Adi Badenhorst, Chris and Suzaan Alheit amongst them. Approximately 30% of South Africa's total vineyards are under 10 years old. In recent years, over 40% of the vineyards were replanted as the industry has shifted from volume production to quality wines.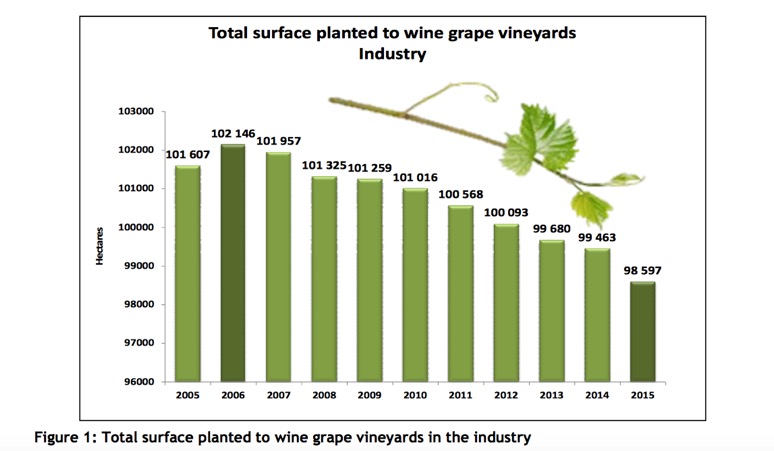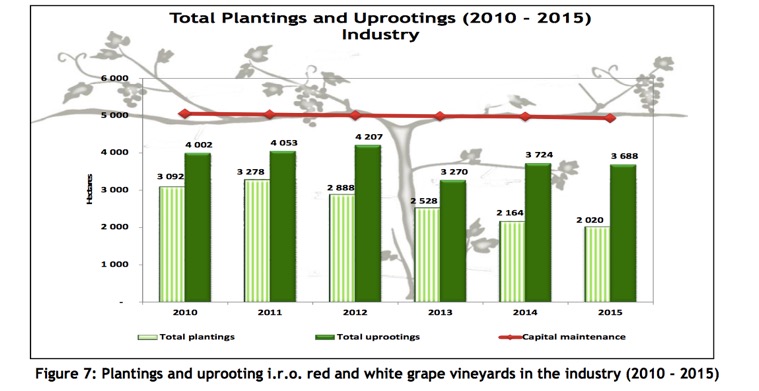 These vineyards, old and new, are under recent threat, due to a higher economic return for lands utilized differently. Other agricultural crops, like apples, are commanding higher prices than grapes (and have a much shorter growing cycle). A booming population and robust construction of homes, retail and industrial sites also mean prime vineyards and potential wine growing sites are being scrubbed up. Currently, vintners are in a rush to secure vineyards. As many smaller producers and garagiste projects are only able to lease lands, this leaves them highly vulnerable to the whims of the economy.
Regionality
As with other young wine regions (remember – apartheid ended just over 20 years ago), there's been a real drive to understand better the terroir and how to best express them. Fortunately for consumers, The South African Wine and Spirit Board has an extremely rigorous Wine of Origin certification scheme that demarcates areas of origin, with borders defined by law. For a wine to claim an origin, 100% of the grapes must come from that area. The demarcated areas drill down from Geographic Units (like Western Cape) to Regions (like Coastal Region), Districts (like Stellenbosch), Wards (like Bottelary) and even specific vineyards. Unfortunately for most consumers, however, there is little understanding of the geography of South Africa, or what these words on the label indicate.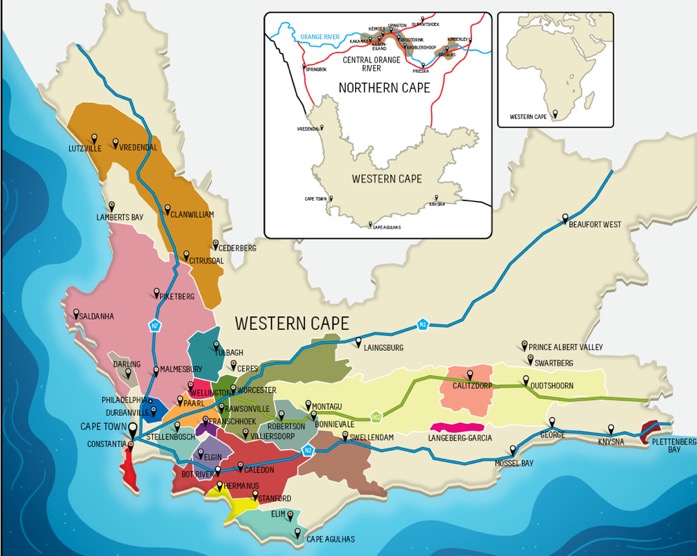 There are far too many demarcated areas to outline here. These are a few common districts detailed when you're looking at the label. For more details on the Wines of Origin Scheme, visit the WOSA website.
District: FRANSCHHOEK is a broad vineyard-lined valley in the south-east corner of Paarl. This small valley is home to some of South Africa's most famous wine estates and has been producing wine since the 17th Century.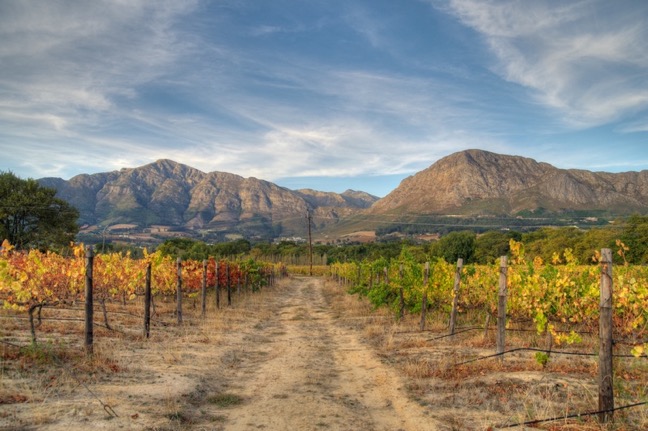 Soils: largely made up of alluvial sandstone, although there are deposits of granite on the slopes of the mountains in the north. While heavy soils near the river have water-retaining qualities, the sandy soils on the lower slopes drain rapidly. Despite the reasonable rainfall during winter, some irrigation is still required.
Climate: Warm, ideally suited to bigger reds and richer whites. The shadows cast by the surrounding mountains help to moderate temperatures, reducing the amount of sunlight that reaches the vines. The mountains surrounding the area also help to trap the cool southerly winds, lengthening the growing season.
Grapes: Shiraz and cabernet sauvignon flourish in the valley, while cooler sites at altitude have seen success with chardonnay and pinot noir, mainly for MCC sparkling wines.
District: CONSTANTIA is a historic wine-growing area in the southern suburbs of Cape Town. In the 18th and 19th Centuries, the area was famed for its legendary dessert wine Vin de Constance. Unfortunately, phylloxera and prohibition all but wiped out wine production in Constantia, with the great sweet wine tradition largely forgotten until the 1980s.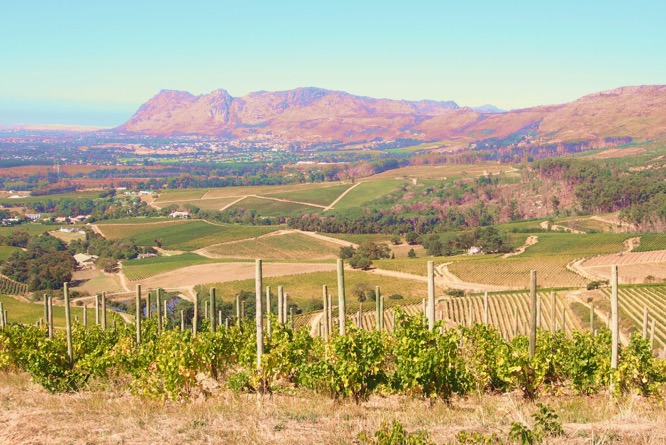 Soils: Mainly ancient deposits of decomposed granite. These soils are well drained and fertile and have a high clay content. Water absorbed by the clay during wet winters helps to keep the vines hydrated over the dry summers.
Climate: Vineyards stretch from low ground all the way up the south-eastern sides of the Constantiaberg mountain, reaching 400m, and amongst the steepest in South Africa. Both the shade of the mountain and the constant sea breezes contribute to lower average temperatures on the slopes, retaining fresh acidity in the grapes. With 1000mm of rain annually, irrigation is unnecessary.
Grapes: Constantia is known for premium cool-climate sauvignon blanc and Bordeaux blend whites, along with the modern dessert wines made from muscat.
District : CAPE POINT is characterized by maritime vineyards, some of them a mere kilometre from the sea. Cape Point forms a part of the coastline where the cold Benguela Current of the Atlantic meets the warmer Agulhas Current of the Indian Ocean.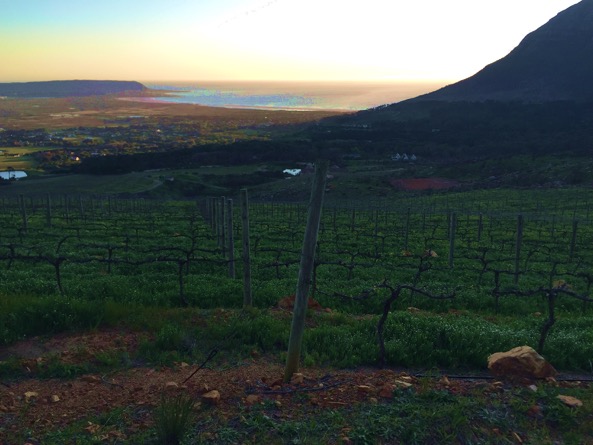 Soils: Sufficiently weathered, so that the top layer of soil has been stripped away, exposing lightly coloured soil of decomposed granite. Low soil fertility and good drainage on the sloped vineyards put the vines under stress.
Climate: A strong maritime influence from the sea makes this a cool-climate region, with vineyards making the most of cleansing breezes, and vintners making the most of the fresh acidity.
Grapes: These cool-climate vineyards are recognised for sauvignon blanc and sémillon.
District : TULBAGH is a secluded horseshoe of mountainous terrain, surrounded on three sides by mountains and see vineyards growing alongside orchards and wheat fields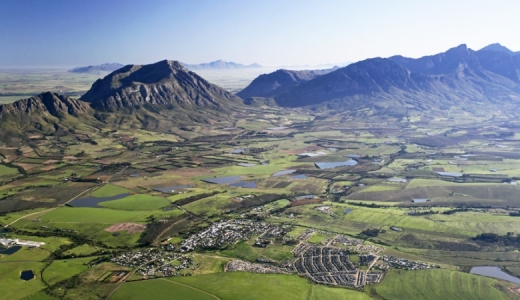 Soils: Soils on the river plains are generally pebbly and sandy, similar to those found in the southern Rhone. The higher slopes are made up of shale and sandstone, providing low-quality, well-drained soils for the vines.
Climate: Extreme differences in day and night temperatures with numerous different mesoclimates. Rainfall is approximately 500mm annually, with most of the rain falling in the winter months. These cold, wet winters mean that the vines have a long season of dormancy
Grapes: Shiraz rules, with Southern Rhone blends following suit.
District: PAARL has a long history of wine production, with French Huguenots settling there in the 1680's and planting grapes and orchards. The KWV was headquartered here. It takes its name from the Dutch for pearl because of how it glistens after rainfall.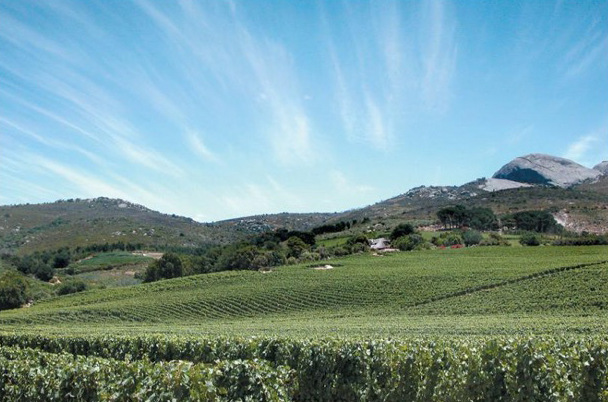 Soils: Paarl is bordered on the west by a large granite outcrop that forms a part of the Cape Fold Belt, the second largest in the world after Uluru in Australia. Vineyards are found on the lower slopes of this Paarl Rock, on the northern side of Simonsberg Mountain and in the valley of the Berg River. The two mountains provide well-drained granite and shale soils for the vines, while the soil on the valley floor is more sandstone-based.
Climate: Paarl's climate is relatively hot compared to the more coastal areas of the Western Cape. Long, hot summers and cold, rainy winters are typical. Rainfall is moderate to high, but vineyards are often irrigated over summer to help cool the plants
Grapes: A wide variety of grapes are grown in Paarl, with cabernet sauvignon, pinotage, shiraz, chardonnay and chenin blanc dominating.
District : STELLENBOSCH has a tradition in winemaking that dates back to the end of the 17th Century. "The town of oaks", this is the site of South Africa's major oenological university, and is the centre of the country's wine research and trade. With more than 150 wineries and its proximity to Cape Town, Stellenbosch is home to nearly 20% of all the vines planted in South Africa.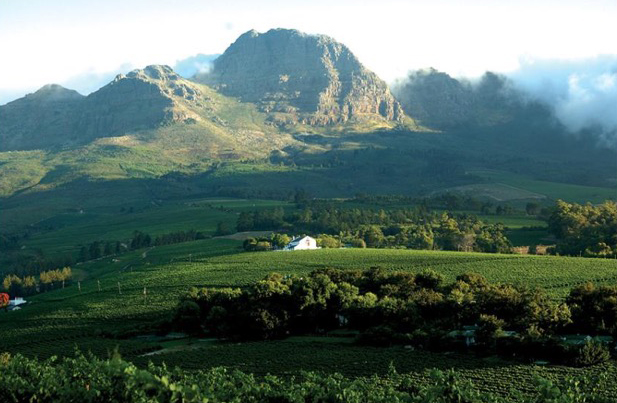 Soils: The mountainous terrain, good rainfall, deep well-drained soils and diversity of terroirs make this a sought-after viticultural area. More than 50 distinct soil types, with granite and sandstone most common. The high clay content holds water well, allowing irrigation to be kept to a minimum.
Climate: The region's climate is relatively hot and dry, although a maritime influence comes from False Bay in the south. Cooling south-easterly breezes wash through the vineyards in the afternoons, refreshing the grapes after the morning's hot sun. Sufficient rainfall in winter
Grapes: Cabernet sauvignon and Bordeaux blends are traditionally strong. Stellenbosch is also notable for being the birthplace of pinotage, a crossing of pinot noir and cinsaut, in 1924.
District : SWARTLAND is a large area 65 km north of Cape Town. Traditionally a grain-producing area, the Swartland district is interspersed with older bush vines. The Swartland literally translated means 'the black land' and the area takes its name from the now endangered indigenous renosterbos (rhino bush) which once turned the landscape a dark colour at certain times of the year.
Soils: The dominant soil type in Swartland is Malmesbury shale. There are also pockets of granite, particularly around the Paardeberg area. While these soils are well drained, they also hold enough water in their lower reaches to support the irrigation-free farming.
Climate: The climate is hot and dry, significantly reducing the risk of fungal diseases among the vines. The lack of water in the soil leads to lower yields and smaller, more-concentrated fruit. Hardy, drought-resistant bush vines have been utilized in the hottest, driest parts of the region.
Grapes: The district was traditionally a source of robust, full-bodied red wines and high quality, fortified wines. Chenin, shiraz and pinotage shine.
District : ROBERTSON is in the Breede River Valley region, 160km east of Cape Town and running along the Breede River. Farmers began to graze sheep in the area in the 18th Century, and from the 19th Century the "valley of wine and roses" has been home to ostrich farming and racehorse stud farms as well as vineyards.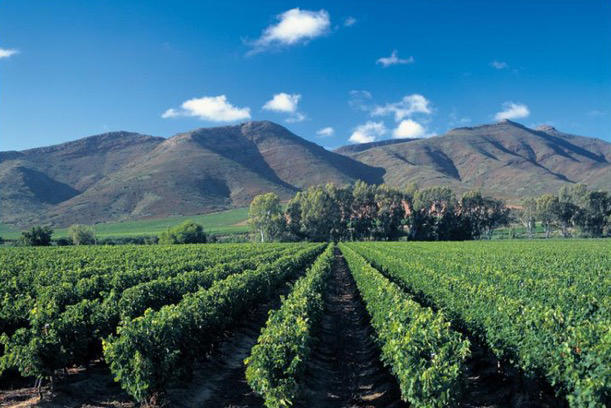 Soils: Diverse soils. Rich, alluvial soils in the river valley are utilized for red grapes, while red, gravelly soils reminiscent of the nearby Karoo desert are well suited to white-wine varieties. Chardonnay grapes thrive on the pockets of limestone soil found throughout Robertson.
Climate: The area is characterised by extreme differences in day and night temperatures. Rainfall is only 400mm / year, and the river is used often for irrigation. Fortunately, south-easterly breezes from the Indian Ocean 90km away have a cooling effect on the vineyards and bring moisture to the area. Occasional mists also bring refreshing coolness.
Grapes: Chardonnays and sauvignon blanc do very well here, as does the production of premium MCC.
District : ELGIN is a higher altitude, cool-climate region cradled in the ancient sandstone Hottentots Holland mountains. Traditionally an apple-growing region, and still home to 60% of the country's apple exports, many prime vineyards are under threat of being uprooted for orchards.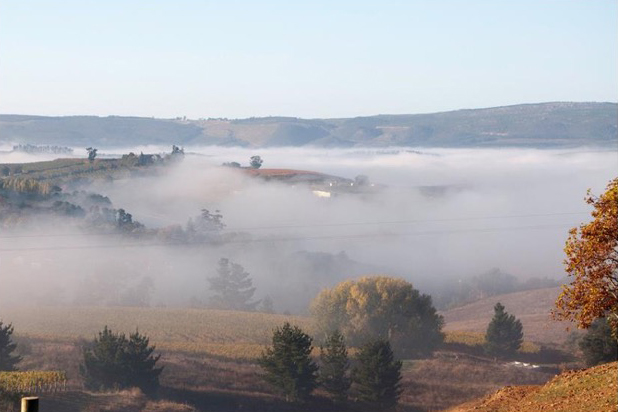 Soils: Gentle hills provide numerous soils, with gravel, sandstone, clay and weathered shale most common.
Climate: Elgin's vineyards lie between 250m to 400m above sea level. Along with prevailing southerly winds and proximity to the South Atlantic Ocean, this provides ideal climate-moderating temperatures, and acid-encouraging conditions.
Grapes: The cool climate is well suited to chardonnay, riesling, sauvignon blanc and pinot noir
District: WALKER BAY surrounds the seaside town of Hermanus, and is typified by its maritime climate, one of the coolest in South Africa. The region's most notable vineyards are found in the Hemel-en-Aarde valley, which runs in an east-west direction from the coast.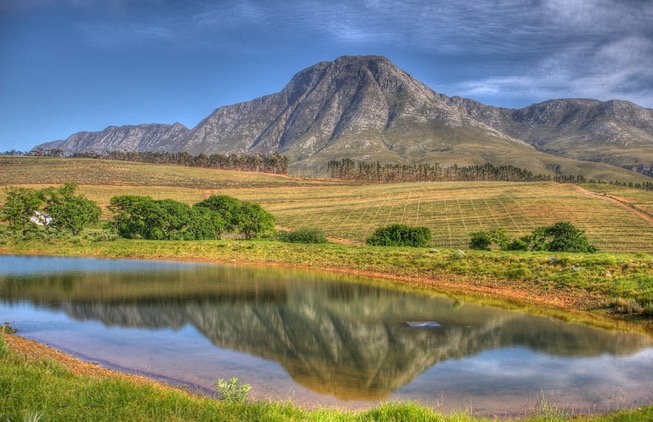 Soils: Predominantly weathered Bokkeveld shales and sandstone, marked by a high clay content, particularly in the Hemel-en-Aarde Valley. Pockets of well-draining weathered granite can also be found.
Climate: The cool climate is the sought-after attribute in this area where vineyards benefit from persistent cooling winds from the nearby ocean. The Antarctic Benguela current ensures these breezes are cold enough to refresh the grapes during the ripening season. This has the effect of slowing the ripening process, allowing the grapes to develop concentration while holding acidity.
Grapes: Chardonnay and pinot noir excel, as does sauvignon blanc
I have tasted hundreds of South African wines this past year, in Canada, the UK and in South Africa. Here are notes on table wines tasted since August 2016, with scores 88 and above. There will be a separate report on methode cap classique (MCC) sparkling wines later this year.
*Please note that not all of the wines here are sold in BC, or Canada for that matter. Current government listing practices are focused on the low-hanging fruit of global brands when it comes to South Africa. Private wine shops are your best bet for finding these labels below, but South Africa could use some help from you, dear consumer. It's up to you to help propel the Next Wave of RSA wines in Canada by asking your local wine merchant for more of the kind of wines featured in this article.
Written By: TR