I admit I'm a bit late to the Pier Luigi Tolaini wine party.
Louie, as he was recently introduced to me, lives in Winnipeg, at least part of the year. The rest of the time he is Pier Luigi, the owner of Tenuta Tolaini in Chianti Classico, just outside of Siena near Castelnuovo Berardenga.
In the classic rags to riches story, Louie Tolaini built houses, washed cars and drove a truck. Eventually he saw it might be advantageous to own the trucks and have someone else drive. It wasn't long before he was hauling livestock to Winnipeg. Long story short, Tolaini's company grew to be TransX et al, with some 2,000 employees around the continent, a thousand trucks and 25,000 trailers you likely pass by everyday on the highway somewhere in Canada or the United States.
With success comes money and with money comes dreams - like going back to the old country and buying a winery in Tuscany. Tolaini wines are less well-known in Canada because our wine monopolies don't operate anywhere near the efficiency of TransX or the rest of the world's retailers. With impressive reviews from Robert Parker and other noted critics, those retailers have rushed to buy his wine.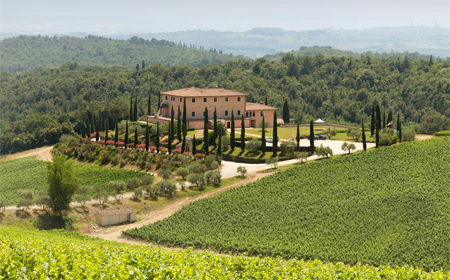 Tolaini's daughter Tina Jones runs a specialty private wine shop, Banville and Jones in Winnipeg, which is probably the best source for Tolaini wines in the country. The Tolaini winery was purchased in 1998. Some $30 million later it has everything needed to make excellent wine including two estates - Tenuta Montebello and Tenuta San Giovanni. The production is based on 120 acres of sangiovese, cabernet sauvignon, petit verdot, cabernet franc and merlot. Over the past three years the vineyards have been farmed organically. The best blocks are fermented in wooden vats with lesser amounts of fruit going directly to barrique and tonneaux for fermentation.
What follows are some recent tasting notes beginning with Al Passo, a sangiovese-merlot that takes its name from a circular forest atop the tallest hill on the Tolaini Estate. Al Passo is an IGT wine grown in the Chianti Classico region. There's a Gran Selezione replacing the Riserva since 2011, grown in the warmer Castelnuovo Berardenga area of Chianti Classico, giving the wine added mid-palate weight. The Valdisanti Tenuta S. Giovanni is an IGT super Tuscan red made by consulting winemaker Michel Rolland. The Picconero Tenuta Montebello is a blend of 65/30/5 merlot, cabernet sauvignon and petit verdot and it's a muscular wine. Finally, Luigi was particularly proud of his cabernet franc used in the blend, and when I asked if he ever bottled it separately he said he was thinking about it. He sent me a sample 2009 that was frankly, delicious.
Like I said, I'm a little late to the party but I'm here now and hopefully so are you.
Written By: ag