Last January I touched down in Queenstown, Central Otago to participate in what proved to be a week full of pinot noir revelations and insights.
The Idea and Context
My last visit was seven years ago, and progress was palpable. The occasion was the 15th Central Otago Pinot Celebration, which brought producers, pinot-philes and global media together to taste, talk, tour and help define the identity of Central Otago pinot.
Pinot represents 73% of all red grape vineyards in New Zealand. The dominance of a single red grape means it makes sense to totally immerse, study, benchmark, analyze and discuss it endlessly. There are two main pinot events in New Zealand that do exactly this: the annual regional Central Otago celebration and, every three years, a massive shindig sees the wine world descend upon New Zealand (planned for February 2022 in Christchurch).
Pinot noir invites this degree of introspection. Part of it is pinot's gift of site expression, and part is the grape's inscrutable, ephemeral, ineffable nature that drives winegrowers to dissect every facet from vineyard to bottle. Maybe raw commerce is an aspect too, as pinot noir always commands a high price.
Not all wine regions have the luxury of specializing in one grape, but Central Otago does. Of 1,930 hectares planted there, 1,555 are pinot vineyards. While other grapes, such as riesling, chardonnay and syrah, perform well, sometimes exceptionally so, pinot noir is distinct here. What makes Central Otago pinots unique is a combination of abundant colour courtesy of sunlight intensity; supreme aroma, flavour, and phenolic ripeness from a lengthy growing season; high natural acidity shaped by cool nights; and a glinting mineral spine. Perhaps most striking though is the quality of tannins: firmer than many pinot specialist regions and so impeccably ripened that they feel silken, velvety and polished. Central Otago pinots have a quiet but substantial architecture and a density of fruit and flavour that manages to be simultaneously potent and diaphanous.
You can add to all that a bunch of deep thinking folks. They've done the necessary diligence and set their sights outward for the last many years. In Nigel Greening's (Felton Road) words: "this is not a land that you tame; you negotiate with the land; you can be eaten by the land at any time; it's not about what we do, but what we have learned." Now with those learnings, older vines with deeper roots, locals with more tribal knowledge, and wines with more fame, they are united, laser focused, confident and wholeheartedly embracing what their land has whispered to them: I Am Pinot, and this is why.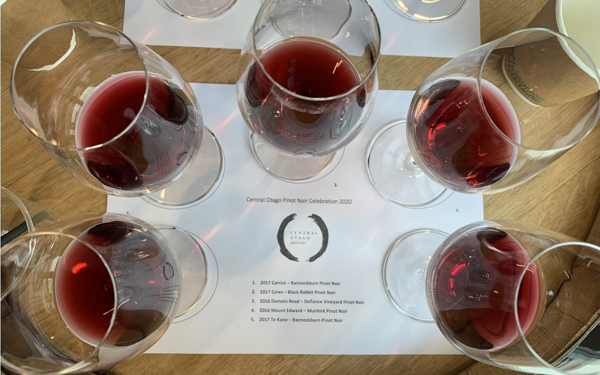 Tasting for Bannockburn Markers
What Happened
What was in store for us were three days of activities designed to reveal how sub-regions Bannockburn, Wanaka and Gibbston interpret pinot noir.
Day One: After the eye-watering welcome speeches and first panel discussions, we savoured bottles from new Central wineries and a flight that illustrated evolving styles. Then a deeper dive into Wanaka pinot markers: edgy, streamlined, fresh, crunchy red fruit, powerfully minerally wines resulting from slow but complete ripening (picked 2-3 weeks later than Cromwell Basin) and overall more whole bunch use. When contemplating pinots from Rippon, Maude and Nanny Goat, you cannot miss the cool fruit and compressed power of Wanaka.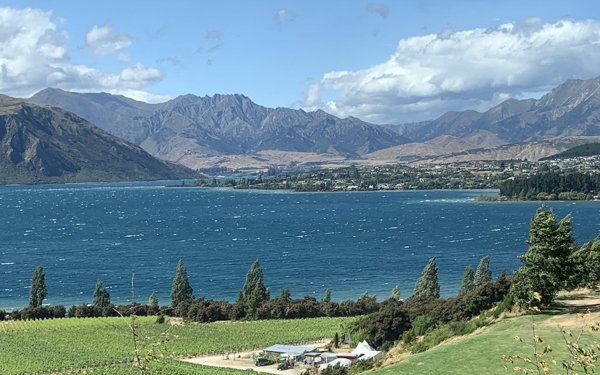 Lake Wanaka
Day Two: We were whisked up to the top of Queenstown in the Skyline Gondola where 32 wineries presented their wines. It was a clinic in Central Otago's stylistic diversity. Rich and expressive, lithe and elegant, perfumed and ethereal, mute and truculent, juicy and energetic, savoury complexity, lacy minerality, umami decadence: the entire pinot canon was on full display. If you look hard on BC store shelves and wine lists you can find superb wines from Felton Road, Rippon, Two Paddocks, Carrick, Peregrine, Quartz Reef, Chard Farm, Gibbston, Mt. Difficulty and a few others. What caught my attention here were producers such as Mount Edward, Terra Sancta, Aurum, Maude, Akitu, Valli and Domaine Road.
Day Three was Bannockburn – on e-bikes or tractor-pulled wagon - for more clever sessions starting with a Rosé tasting at Carrick (as one would expect wildly diverse styles, but all delicious); discussing the relationship with a site at Terra Sancta; then, considering old vine character at Felton Road. Next was a cutting-edge lecture from Dr. Matthew Goddard about the interplay of microbes from vineyard to winery. He postulates that communities of vineyard microbial species correlate to types of fermenting Saccharomyces cerevisiae and showed us how region-specific microbial colonies contribute to pinot Noir terroir. This was heavy and fascinating, but the central take away was that vineyard microbes definitively contribute to a wine's sense of place.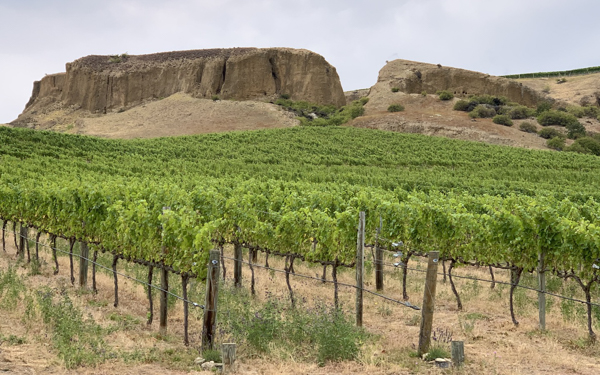 Bannockburn
Why all this matters
Through experimentation, observation, scientific scrutiny, comparison, and conversation Central Otago winegrowers have an evolved understanding of what this powerful place can be, expressed through the lens of pinot noir. The region has worked relentlessly to feel and listen to the land. I certainly understood far more about the essence of Central Otago and its relationship with pinot than I had seven years before. There is no doubt that the new generation has energized Central in a vital way, and all agree that the terroir is powerfully strong and imposes itself on the wines. If wine's greatest calling is to express a place, then this profound place has an unmistakeable voice.
Of course there was conversation about the future. Twenty percent of Central's vineyards are farmed organically or biodynamically and the rest must follow, there is more concrete and neutral oak used, and urgent talk about the appellation itself. The Central Otago GI is registered now, and the next step is to define and register the sub-regions so place names are protected. In one of the panel discussions highly respected wine critic Elaine Chukan Brown reminded locals that Central has transited through the founding and building stages and was now in the expansion phase and must work together. She warned against being insular and too protectionist, encouraging that diverse points of view would help forge the best path forwards. As brilliant and distinct as Central Otago's pinot noir wines are now, the best is yet to come.
Ed note: below is short list of pinot noirs we have enjoyed from around the world many inspired by New Zealand's effort to care out a life for pinot outside of Burgundy.
Written By: