Last fall I spent a week in Portugal's Douro Valley with The Douro Boys during harvest.
Though they don't quite qualify as 'boys', the five men (and their wives, daughters, and sons) behind the innovative collective all possess a vibrant and youthful passion, energy, and excitement about their region and its expression in wines – specifically, dry table wines.
In the late 1990's and facing declining Port wine sales worldwide, the close friends realized they needed to focus on dry table wines and the unique story of their dramatic and ancient slate and granite terroir, extreme climate and autochthonous grapes. Dirk Niepoort, Cristiano van Zeller, Francisco Ferreira, Tomas Roquette and Francisco Olazabal have deep winemaking roots in the Douro, some of which stretch back to the 17th century. They make wine individually at their own estates, in their own styles, with one shared goal: to show the dry wines of the Douro have quality and lineage equal to the acclaimed Port wines. Dry wines have been made in the Douro for nearly 200 years; it was only the commercial success of sweet Port wines that overrode the dry wine heritage. Since 2003 the friends have been working under the Douro Boys to hold tastings, seminars, and presentations around the world with this united directive.
Their five wine estates, Niepoort, Quinta Vale D. Maria, Quinta do Vallado, Quinta do Crasto, and Quinta do Vale Meão, inspired and launched numerous others. Though today there are dozens of serious table wine producers, these boys are regarded as the iconic leaders of the movement. Quality producers are rediscovering ancient varieties and revitalizing historic properties, while moving quickly forward to modernize production and style. As such, these dry wines have never been better; the overripe, over wooded and overwrought Douro wines of the 2000's are being replaced with pure-fruited, site-showcasing styles, many highlighting ancient varieties in transparent, low-interventionist ways. There is a great focus on white wines presently, with producers seeking out cooler sites and earlier picking dates to preserve freshness of grapes like rabigato, gouveio, arinto, vioshino, codega, larynho, verdelho and others. For reds, the traditional five for Port wine are in use, as well as some of the lesser known reds such as alicante, sousão and rufete.
From extreme places come extreme wines, and the Douro Valley certainly exemplifies extreme. The classic phrase of "nine months of winter and three months of hell" summarizes the range from cold winters to roasting hot summers (up to 50C). This, coupled with the rugged terrain and precipitously steep vineyards result in naturally low yields, and high production costs. Even still, the price of these wines, from soils and grapes not seen elsewhere on the globe, is staggeringly good value.
We spent at least one day with each of the Douro Boys, tasting, touring and talking. Here is a closer look at the five Boys, their quintas, and the wines that are driving the Douro Valley into the future.
Quinta do Vale Meão
Val Meão is an important estate in the Douro, with more than 300 years of history, and a direct connection to the grand dame of Douro winemaking, Antónia Adelaide Ferreira. With exceptional foresight and courage, Dona Antónia acquired numerous properties from the near-bankrupt local municipality in the 1870s and leased them out until the late 1880s, when she started planting vineyards (just post-phylloxera) and set up a pioneering wine estate in the far eastern Douro Superior in 1895. At that time folks thought she was crazy to undertake such a venture, but she was only crazy like a fox. When the railroad to Pocinho was built, her 300 ha quinta was already producing, and had the product and means to transport wine. Her descendants carried on the family tradition, growing grapes for port wine production, predominantly for their family-owned Ferreira Port House. In 1999, after resigning from Ferreira, Francisco (Vito) Olazabal decided to turn his attention back to table wines and ports under the historic Val Meão name. Today Vito directs the estate, along with his son Xito (winemaking) and his daughter Luisa (sales).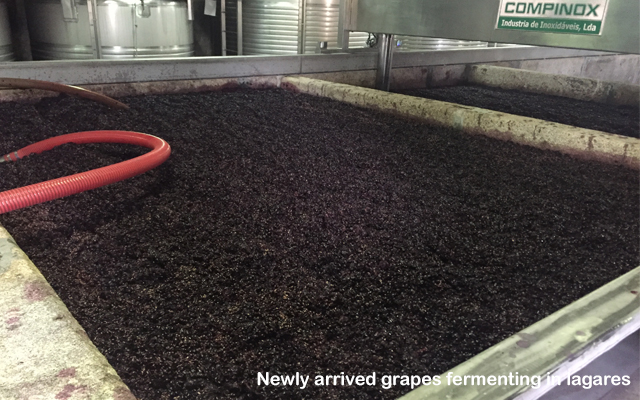 The day we visited, Xito was full-on processing grapes in the winery, just into the start of the 2016 harvest. We tasted just fermented rufete (highly tannic), cornifesto (fresh), sousão (which Xito prefers for port over table wine), tinta çao (early picked, tight, floral and blackberry), alicante (dense, high blue-toned fruit with fine tannins), as well as the yet-to-be fermented touriga naçional (from schist, very long and structured in the mouth already) and tinta franca (shorter attack, tight and mean). www.quintadovalemeao.pt
Quinta do Vallado
The historic (even by Douro standards) Quinta do Vallado was originally established in 1716, and became part of the Dona Antónia Adelaide Ferreira empire in 1818. The quinta is spread across both banks of the Corgo River, a tributary of the Douro River, and near the town of Peso da Régua, bordering both the Baixo and Cima Corgo.
For almost 200 years Vallado´s main activity was the production of Port wine for the Ferreira Port House. In 1993, Guilherme Álvares Ribeiro and his wife Maria Antónia Ferreira, shifted the business into producing wines, dry and Port, under the Quinta do Vallado name. They started renovating the older vineyards, planting new ones and modernizing production, farming 50 ha of vineyards 6 to 15 years old, as well as 20 ha of prized old plots, some more than 90 years old. Quinta do Vallado's first dry table wines were released in 1995. Today their dry white wines of arinto, rabigato and gouveio receive a lot of emphasis, and account for 200,000 bottles annually.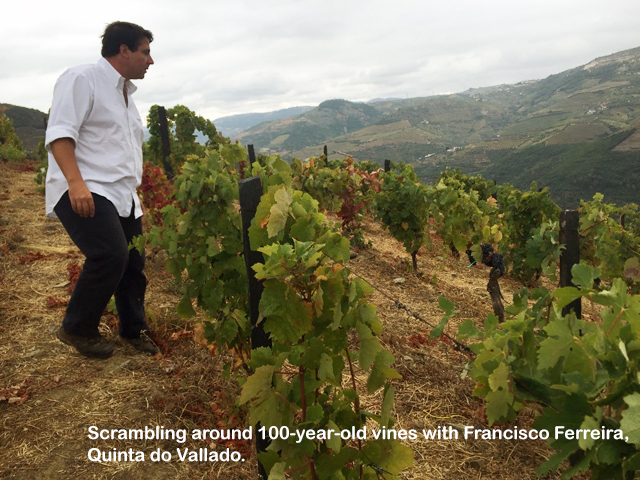 Sixth generation descendants and cousins Francisco Ferreira and João Ferreira Alvares Ribeiro are the owners today, with Ferreira making the wines. The duo has continued Dona Antónia's pioneering and entrepreneurial ways with the creation of the 13-suite luxury boutique Quinta do Vallado wine hotel on site, and positioning Vallado as a prestigious brand for enotourism in Portugal. More recently they've decided to expand their vineyard and hospitality operations with an organic vineyard and a second luxury boutique hotel in the Upper Douro. Quinta do Orgal, in Castelo Melhor - Vila Nova de Foz Côa was purchased in 2009, and today 30 acres of sloping organic vineyards (touriga naçional, touriga franca and sousão) have been planted, with the first vintage in 2014. They opened the striking 6 suite Casa do Rio hotel in 2015. www.quintadovallado.com
Quinta do Crasto
Perched on the right bank of one of the most spectacular spots of the Douro Valley, between Régua and Pinhao, Quinta do Crasto was first officially documented in 1615. Of their steep, undulating and terraced 135 ha estate, 74 ha are planted, and include some of the most historic producing vines in the Douro, particularly from the Vinha da Ponte and Vinha Marie-Teresa vineyards, both over 100 years old.
Though the estate has changed hands several times over the years, it has been in the Roquette family for more than a century. Leonor and Jorge Roquette took over the quinta in 1981, undertaking extensive renovations and expansions and shifting production towards quality table wines, releasing their first dry wine in 1994.
Their sons Tomás and Miguel Roquette oversee Quinta do Crasto today, and carrying on their parents' commitment to quality, have undertaken extensive research projects to better understand the complexities of their historic site. Together with winemaker Manuel Lobo, they have DNA identified the 49 different grapes that make up the 4.7ha, 102-year-old Vinha Marie-Teresa field blend vineyard, geotagging each of the 28,000 vines. Touring the steep vineyards with the curious and studied Lobo, it's clear that he drives a lot of the R&D.
He is also currently trialing stem use in ferment (not specifically stems from same grapes), the "huge differences" in clonal vs. massale selection, the limited use of SO2, and other research projects. He was instrumental in the winery's installation of the oxoline (a barrel-rolling system for battonage) and the decision to use acacia head barrels for whites, affording a different character than straight oak.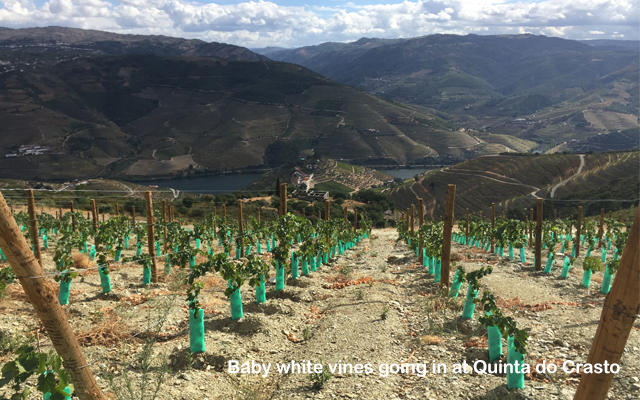 Lobo, ex- of Chateau Montelena and Penfolds, is currently planting vineyards at the highest and coolest elevations of the property, at 500m altitude. The highly schistose soiled site is dedicated to white grapes, a focus of the quinta. Lobo is seeking the freshness and acidity provided by the site to help translate those qualities in the wines. Altogether, Crasto farms 290 ha of vines throughout the Douro, including 114 ha of vines at Quinta da Cabreira, in the Douro Superior. www.quintadocrasto.pt
Quinta Vale D. Maria
Cristiano van Zeller is a well known communicator globally, and one of the Douro Valley's most important ambassadors and authorities. Listening to him speak is like being inside the head of a Douro dictionary. His family had been connected to Quinta do Noval since 1894, before they parted ways with the Port house in 1993. Cristiano then turned his focus to purchasing the striking and steep Quinta do Vale Dona Maria in Rio Torto, which had been in his wife Joana's family for 150 years.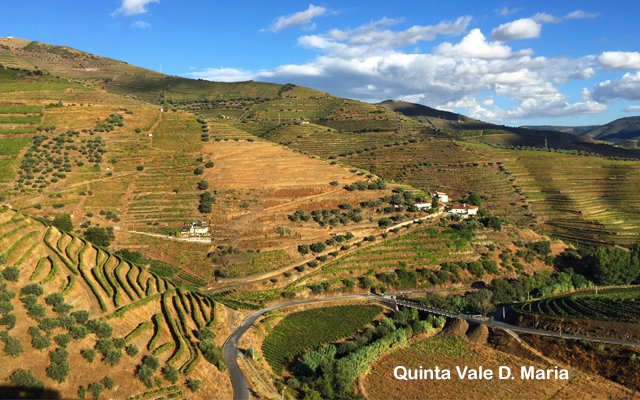 When they purchased the estate in 1996 it was in rough shape, having been leased out for the previous 23 years to a Port producer. They set to restoring the 10 ha of old vineyards (40 varieties, up to 80 years old) and replanting as appropriate, as well as renovating the winery and buildings on the 19 ha estate. New vineyards have been added through the purchase or long-term lease of neighbouring properties, increasing production to 50 ha, 5 ha of which are white.
In addition, Cristiano operates Van Zellers & Co., officially established as a Port Wine shipper in 1780 by the first generation van Zellers. The company traded hands over the centuries, until Cristiano finally reacquired it in 2006, launching the VZ, Van Zellers Douro DOC wines.
He continues to honour the past, while preparing for the future. After years of researching fermentation vessels, he has decided to expand his lagares program so he has space enough to ferment all his premium reds in them, preferring the results of the shallow granite vessel (particularly the friction and temperature affect) over wood or stainless.
Continuing the family legacy, his daughter, Francisca van Zeller, is deeply involved with the companies, and oversees the marketing, public relations, and communication for both, as well as handling local PR for the Douro Boys. Whip-smart, driven and wine-passionate like her father, Francisca is becoming a well-known voice in the industry herself, and the first of the next-gen Douro Boys. She is one of the eight founders of D'Uva-Portugal Wine Girls, an association that aims to represent women making wines from each region in Portugal. www.quintavaledonamaria.com
Niepoort
If one had to pick the winemaker that has had the greatest impact on not only Douro wines, but Portuguese wines in general, it would be Dirk Niepoort. Easily one of the world's top winemakers, Dirk's insight extends beyond soils, grapes and blends, but into humans, predicting and driving the wines that a generation of keen folks are interested in drinking.
While upholding his family's history in Port wine, dating back to 1842, this fifth generation Niepoort has led the path for future generations to follow in dry wines. Independent, low-interventionist winemaking (biodynamic practices since 2012), earlier picking times and clever marketing has created fresh wines both inside and outside of the bottle. There is little Dirk's ceaseless mind hasn't touched: natural, sparkling and highly experimental wine, the latter category being labelled either as 'undrinkable', or 'incredible' by well-known wine critics. The soft-spoken Dirk deftly combines tradition with innovation, equally using granite lagares and ancient grapes alongside sharp social media, alliances with artists, and collaborations with other winemakers around the world (Spain, South Africa, Austria), through his Niepoort Projectos project.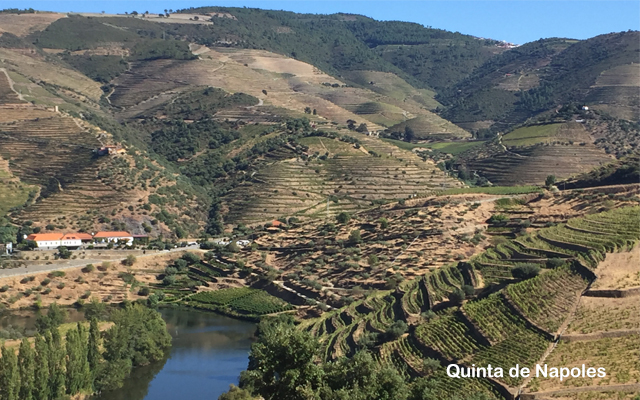 Niepoort purchased their first Douro properties in 1987, Quinta de Nápoles and Quinta do Carril in Cima Corgo, with the release of their first dry red, Redoma, in 1991. The main winery is located at the steep, schistose Quinta de Nápoles, on the left bank of the River Têdo and surrounded by approximately 30 hectares of vineyards (up to 80 years old) from 180-250m. Since then, the company has acquired properties in other regions, allowing for exploration into the different grapes, climates and soils of Dão (granite) and Bairrada (limestone). The portfolio is expansive, colourful, and ever-evolving, though centered on serious, age-worthy reds and whites.
When we visited in mid-September, one well-known Douro winemaker, preparing for harvest commented that "Dirk has probably finished harvest a couple of weeks ago." An acute statement, indicative of his fresh, forward wines and vision. www.niepoort-vinhos.com
*Lead photo from L-R: Xito Olazabal (Val Meã0), Miguel Roquette (Crasto), João Ferreira Alvares Ribeiro (Vallado), Dirk Niepoort (Niepoort), Cristiano van Zeller (Vale D. Maria)
Written By: TR