Pinot noir has the reputation of being a finicky grape, which can be just as alluring as it is elusive.
But cabernet sauvignon can be equally frustrating, if not more so. There's no doubt that it's responsible, in whole or in part, for some of the world's great wines. It's called the king of grapes for a reason. Yet, at lower price points, you must wade through an ocean of wine to find bottlings of place and substance.
Plantings have surged since 1990, and it is now the world's most cultivated grape variety. That's not necessarily a sign of quality. Previously, airén topped the list thanks to swaths of plantings in Spain, where it was used for brandy production. In contrast, cabernet sauvignon's growth is in large part because it sells. Just look at the interest in the top five grape varieties: it's clear that cabernet sauvignon is a step above the competition.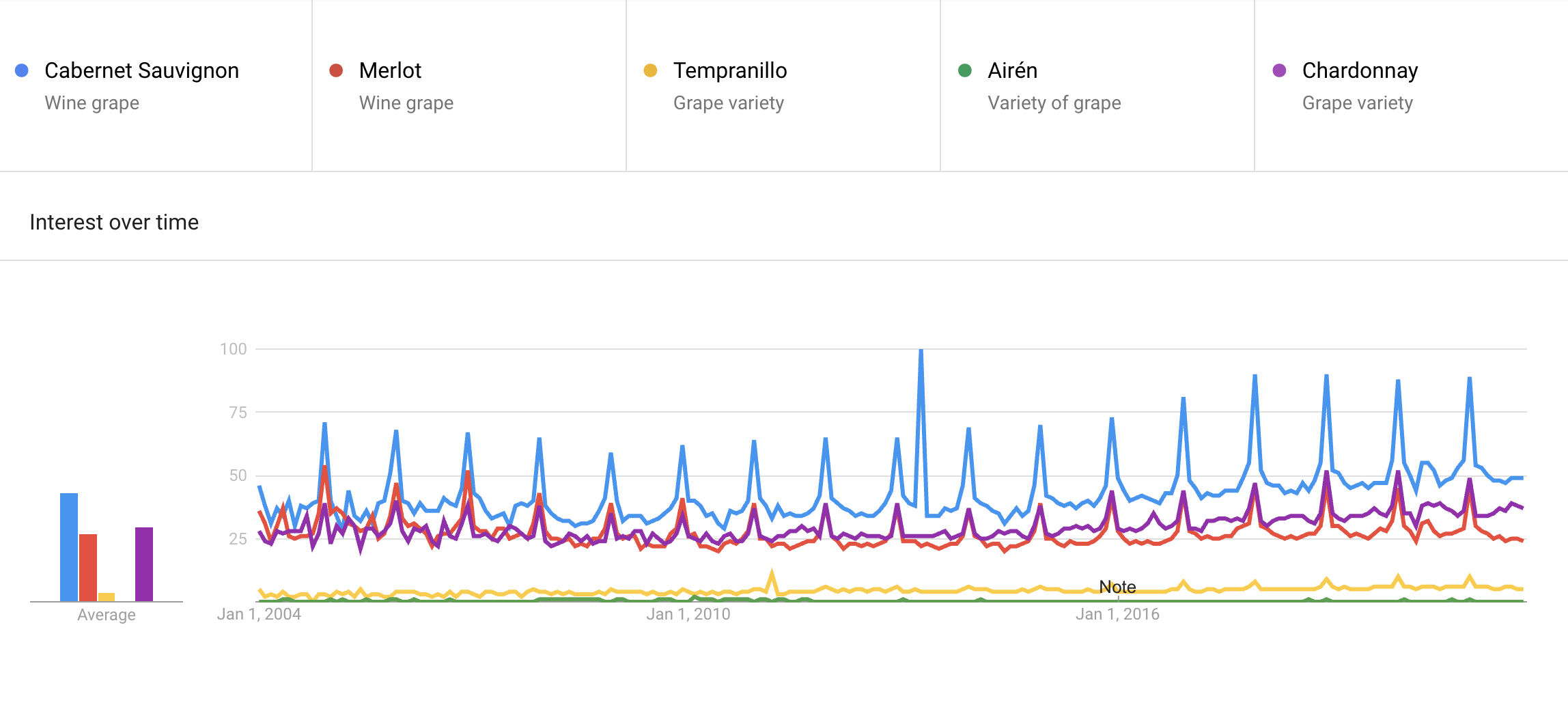 Google Searches of the top five grape varieties worldwide since 2004
It's a bit of a problem, actually. Everyone and their uncle wants to grow cabernet sauvignon to bolster sales. But that doesn't necessarily mean they have the right site. Let's not forget that cabernet sauvignon is a relatively late-ripening variety that needs average growing season temperatures of approximately 17 to 19 degrees Celsius, similar to grenache and sangiovese.
Ripeness is intrinsically part of any conservation about cabernet sauvignon, perhaps more so than any other grape. That's because cabernet sauvignon is a pyrazinic variety. It's both a blessing and a curse. When unripe, cabernet sauvignon can be intensely vegetal with pungent green bell pepper notes. However, pyrazine levels will drop as the grape ripens, turning into appealing notes of mint or fresh herbs that add complexity and freshness to wines that can otherwise be monolithic.
Unfortunately, it can be pushed too far. Long hang time will certainly lose the green character of a wine, but in doing so we lose something intrinsic to cabernet sauvignon. We lose its innate character, and worse, we end up with overripe fruit that's stewed, raisonated, or just, well, dead.
It's a balancing act, and there's no one Platonic ideal. There's room for lots of different expressions of cabernet sauvignon, from lean, leafy, red-fruited vins de soif to bold, minty, jammy blockbusters. But if under-ripeness is the enemy of great cabernet, so too is over-ripeness.
Here are ten cabernet sauvignons that get the balance right, starting at just $16. As always, we've only included wines that we've recently tasted and that are still available in market.
Written By: