Sebastian Cortez remembers the first time he was invited to a barbecue in Canada.
Excited to experience his favourite way of socializing with his new Canadian friends, he arrived early with meat, wine and an armful of tomatoes, onions, limes and cilantro. However, the event didn't unfold quite as expected, as Sebastian stood outside alone, grilling meat, while his friends were inside with a sports game on the TV, drinking beer. Puzzled and a bit disappointed, Sebastian realized that a "BBQ" in Canada was something quite different from gathering in his native home Chile.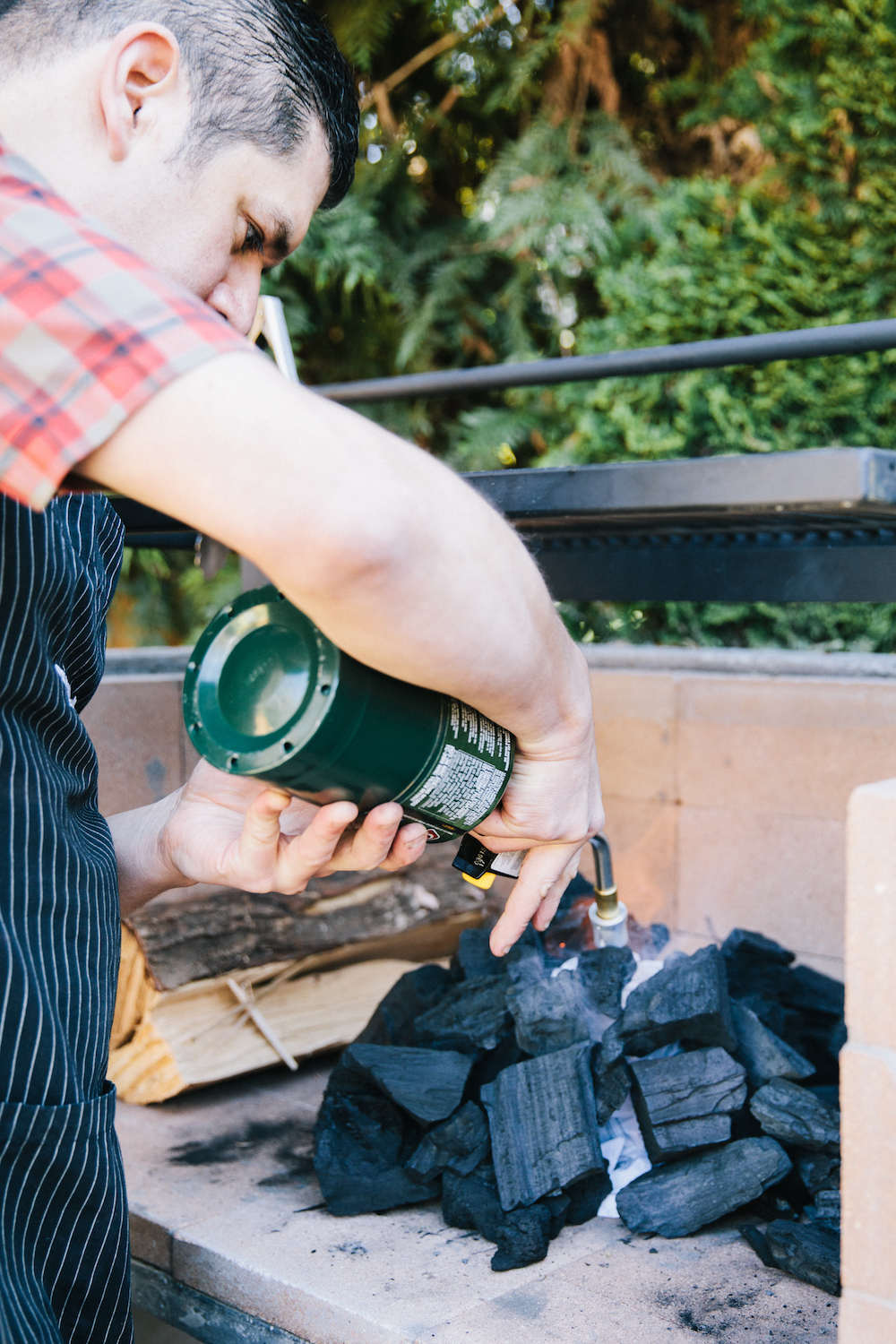 In Chile and across much of South America, a barbecue, or "asado," is about so much more than just the food. "Asado is basically a barbecue, but it's also a whole social thing," explains Cortez, a butcher and owner of Sebastian & Co Fine Meats in West Vancouver and now downtown Vancouver; "We start early in the day, and the cool thing is that everybody works on the food as we hang out. It's an excuse to spend the day together, eating and drinking. Cooking together is our way of socializing".
Before guests arrive at one of Cortez's asados, he already has the fire going. He uses charcoal and sometimes hardwood, as the idea is to slowly cook meats over an open fire, often for hours. When friends arrive, they are customarily greeted with a champagne flute of "Pisco Sour," the hotly contested national drink of Chile and Peru (both countries laying claim to being the originator of this deliciously potent lemon-brandy-egg white cocktail).
Once the coals are ready, the meat goes on the grill. Cortez's favourite is the Vaccio, a flavourful and wonderfully textured cut of beef he introduced to the North American market after a return visit to his hometown of Vina del Mar, Chile. For his friends and family, Cortez loves atypical cuts like picanha, vaccio, skirt, sirloin cap - all typically harder working muscles that explode with flavour and tenderness when cooked properly - slowly grilled, over low temperature open fire. My grandfather always said the fire is ready when the coals are white," Cortez says, "It almost looks like the fire has died out, but this is the best way to break down the connective tissue in tougher cuts".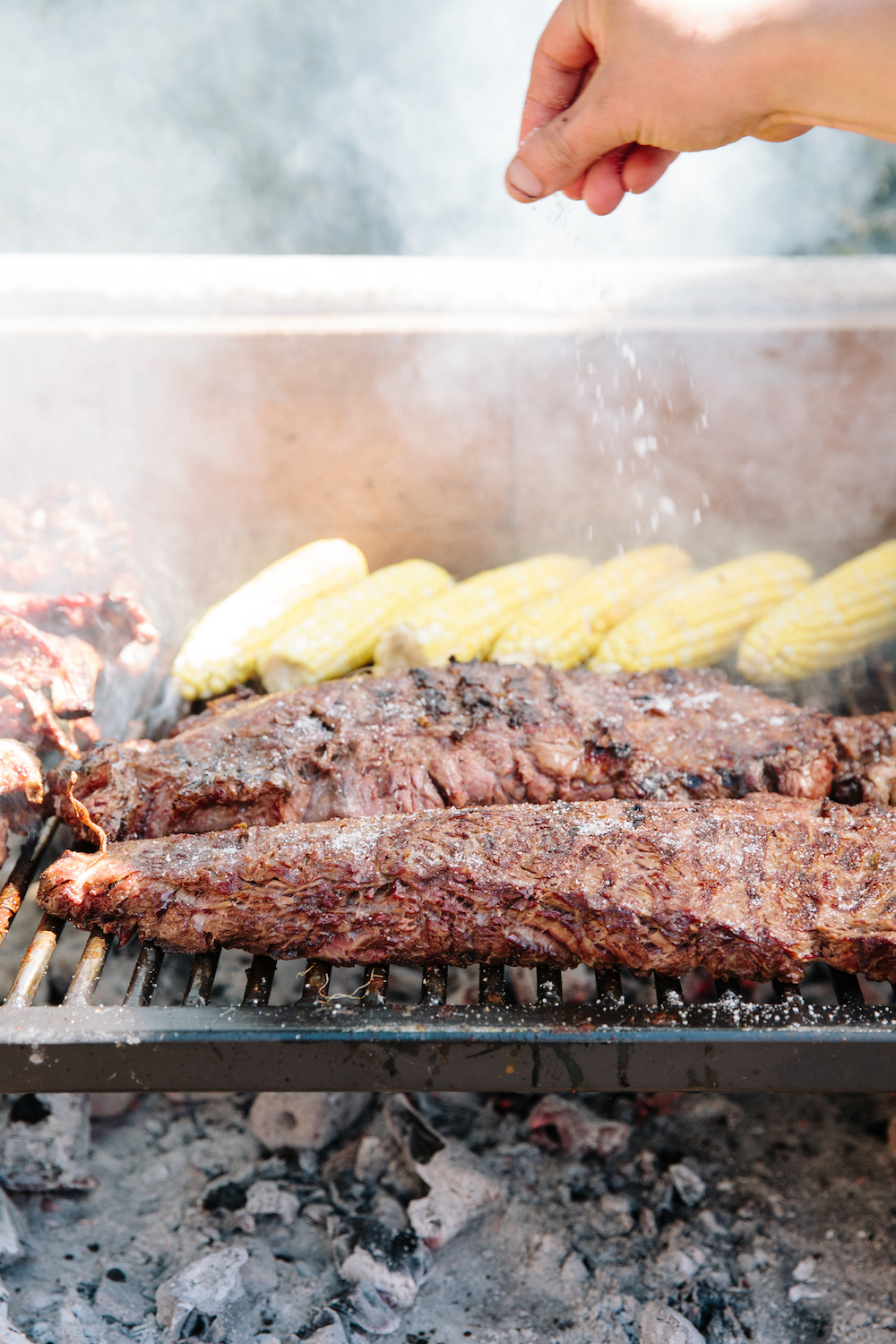 The meat is never marinated – a good quality sea salt is all you need. "If you want to do a ribeye, that's fine, but you don't do an individual steak. You'll need to ask your butcher for the whole thing, butterflied".

While the meat is cooking, guests nibble on empanadas – savoury pastries stuffed with meat or cheese – and sip wine as they set about making salads and sides. Chilean pebre, a fresh tomato-based salsa, and Argentinian chimichurri, a delicious herb, garlic and olive oil dressing, are necessary. "Asado focuses mainly on meats and salads so that you won't find a whole lot of rice or potato.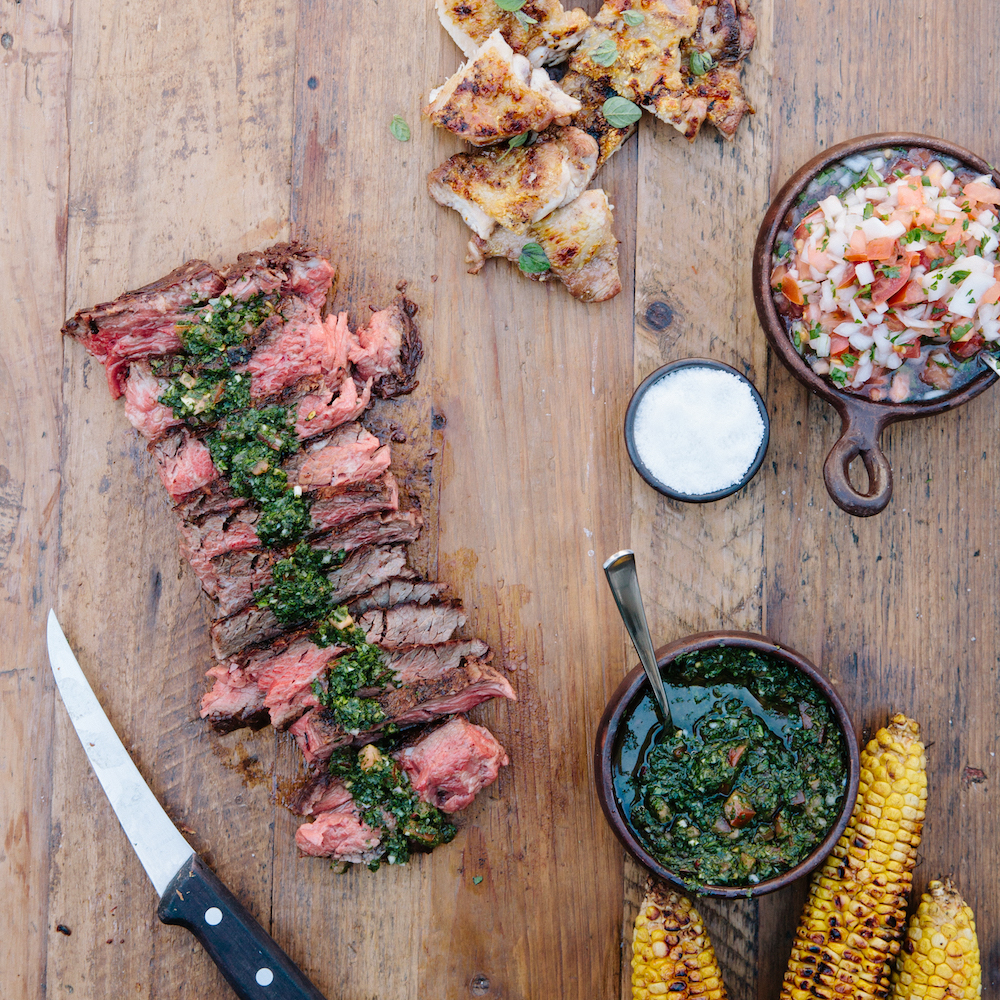 It's very keto-friendly," jokes Cortez. As meat fat drips over coals, a delicious smoky aroma of open fire grilling draws guests back to the central hive of social activity: the grill. Cortez will throw Chilean chorizo sausages on the grill, a teaser until the main event. Just before the beef is ready, he will also add chicken thighs to the grill, perhaps some lamb chops or more sausages.
When the meat is ready, big platters are placed in the middle of the table, with salads, salsas and chimichurri plated in traditional clay bowls. "Sometimes we don't even sit down but gather around with our glasses of wine and eat meat right off the grill." However you choose to do it, the communal spirit of an asado means that all the guests have interacted with the food, wine, and most importantly, each other.
Find Sebastian Cortez's recipes and our wine pairing suggestions in this handy "How to Asado" download.
You can find Sebastian at Sebastian & Co Fine Meats in West Vancouver and Downtown Vancouver.
Here are some easy to find Argentine labels to serve at your asado: