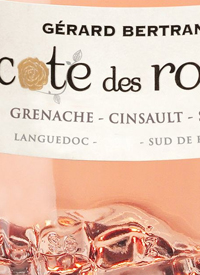 16¼/20







Gérard Bertrand Côte Des Roses Rosé 2016
Coteaux du Languedoc, Languedoc, Sud de France, France
We don't normally mention the package with wines, but rosés, especially French rosés, make a point out of packaging. People buy rosés with their eyes first, from hue to presentation, more than they do with any other wine style. The packaging here is striking and memorable; a gossamer pink coloured rosé pours from a unique glass bottle with the base shaped like a rose. The rose is one that grows in Languedoc, and was imprinted by the artist specifically for this custom-bottle. The closure, Vinolok glass, tops off the experience with style. As the French would say, it is très chic. The nose is a subtle mix of strawberry and citrus with a strong, fresh mineral undercurrent, and the palate is similar with delicate raspberry, pear and stony notes with a dusting of Southern France garrigue. The style is dry and firm, adding substance and intensity, yet it remains perfectly lively and graceful: never easy to achieve. A fantastic price too (around $15 USD), even in Hawaii (also, never easy to achieve). Makes it all the better that it pairs beautifully with tuna poke.
Tasted:

19 February 2018
Tasted by:

Anthony Gismondi and Treve Ring
Prices:
BC 24.99 LCBO AB 19.99 private wine shops MB 22.99 Banville & Jones Wine Co. ON 19.99 The Beer Guy NS 19.99 NSLC NB 19.99 NBLiquor NL 19.99 NLLC
Producer:

Gérard Bertrand
Distributors:
Pacific Wine & Spirits Inc.

Blend:

Grenache - Syrah - Cinsault
UPC:

03514120107107