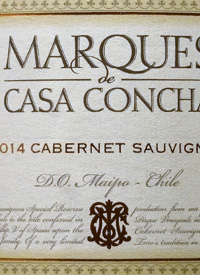 16¼/20







Concha y Toro Marques de Casa Concha Cabernet Sauvignon 2014
Puente Alto, Valle del Maipo, Region del Valle Central, Chile
Charcoal, cured meats, violets, thorns and inky cassis are kept light and fresh with a swell of acidity on this fuller bodied cabernet sauvignon (splashed with cabernet franc, merlot and syrah) from cooler Maipo at Puente Alto (650m) and Pirque (570m). Roasted coffee and smoked pimento linger on the finish. Tannins are gritty, but well integrated into the fruit at this stage. Mixed grill, meet this.
Tasted:

22 March 2017
Tasted by:
Prices:
BC 24.99 BCLS ON 21.95 LCBO QC 22.00 AB 20.00 private wine shops NS 19.99 NSLC SK 24.95 Saskliquor YK 24.95 NF 23.95
Producer:

Viña Concha y Toro S.A.
Distributors:
Escalade Wines & Spirits

Grape:

Cabernet Sauvignon
CSPC:

337238
UPC:

07804320333175