If you are a follower of British Columbian wines you've likely noticed a growing number of producers and winemakers wanting to get up close and personal with their vineyards, focusing in on individual blocks and even rows of vines.
What's old is new again with small batch, single vineyard, and low to no intervention, being the current zeitgeist of more and more small wineries returning to traditional winemaking methods to find their roots, so to speak.
This vision and philosophy is apparent at Martin's Lane Winery, the latest addition and commitment to the potential of the Okanagan Valley by proprietor Anthony von Mandl of Mission Hill fame. The namesake winery is a tribute to von Mandl's late father, and is nestled on the eastern hillside slopes of Lake Okanagan adjacent to CedarCreek Estate Winery (which also belongs to von Mandl). It's a strikingly modern, state-of-the-art property that uses the flow of gravity to its advantage, together with non-interventionist winemaking and grapes from select estate vineyard sites dotting both sides of northern Lake Okanagan. The result is riveting and ethereal wines, taking B.C. and Canadian wines to the next level.
To say that Martin's Lane Winery is focused would be an understatement. It will, and only ever will, make wine from two grape varieties – mostly pinot noir and some riesling, an anomaly for the region. The intent is to highlight site specificity, or sense of place, or terroir, or whatever you choose to call it, and to show how different and geologically diverse vineyard sites and soils are transformed into distinctive wines. This makes for soulful and sensual wines that seamlessly unite depth and complexity with elegance and restraint.
The people and the property
While the winery and vineyards are firmly rooted in the Okanagan, the team behind growing and making the wines come from afar. New Zealander Kurt Simcic is the viticulturalist, using his keen attention to detail and respect for the land to grow the grapes organically. He works with winemaker and fellow Kiwi Shane Munn, who considers wine as craft and is clearly excited about the challenging project. While Munn has, in his words, had the luxury and fun of making wine from 37 different varieties, he believes that it is riesling and pinot noir that "can put the Okanagan on the map alongside the great pinots and rieslings of the world," as both varieties are well suited to the north Okanagan.
Munn has an impressive winemaking CV, having worked in both new and old world wineries over the past two decades. That was after leaving behind an analytical career (his first degree is a B Sc. in Statistics and Operations Research) which was essentially a means to fund his travel throughout Europe to watch football, eat and drink and, consequently, develop a love of wine. He returned to New Zealand in the late 1990s and signed up to study winemaking when he was surprised to discover he could turn his new-found passion into a profession. A series of harvests followed in New Zealand, Barolo and Ontario, where he was first introduced to biodynamics by then winemaker Ann Sperling at Malivoire Wines. Before returning to Canada in 2014, Munn further honed his craft at New Zealand wineries Millton and Woollaston (now Mahana), known for their principled winemaking and focus on sustainability, biodynamics and organic viticulture.
Munn is methodical but passionate when he talks about making wine at Martin's Lane and the soils and rocks (which he calls his "props") of the vineyards. Asked to describe his philosophy of wine in 140 characters or less, Munn says, "Elegance and character are primarily what I look for but that any great wine should be beautiful too." In terms of winemaking, Munn declares, "Detailed, uncompromising, but mostly gentle and guiding", which, in this case, implies organic viticulture, spontaneous fermentation, no fining or filtration and a bare minimum of intervention, in particular for pinot noir, where nature's subtle imperfections are embraced.
The winery itself is understated yet architecturally impressive, with no expense spared on the production facility and with equipment that most winemakers can only dream about. The glass, steel and concrete building designed by Seattle architect Tom Kundig, melds function and design elements to create a dramatic structure that appears to sit effortlessly on the sloping hillside environment and surrounding rocky vineyard landscape.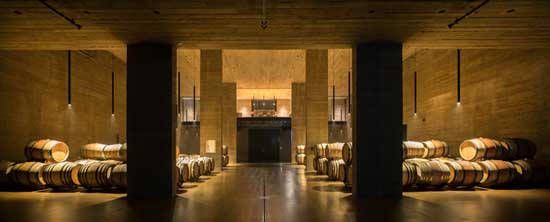 Kundig also designed Mission Hill Family Estate, which you can see in the distance across Lake Okanagan. While there are design references to its sister winery, Martin's Lane is markedly more raw and wild, with a rugged sexiness that fits in so well with its surroundings. The winery's gravity flow design allows wine to flow effortlessly from crush pad to fermentation tanks to barrel and finally, to bottle, supporting the gentle winemaking process that is well suited to thin-skinned pinot noir and aromatic riesling.
The vines and the wines
The grapes for Martin's Lane wines are sourced from four separate vineyard blocks on both sides of the mid to northern parts of Lake Okanagan. The rugged and sloping Simes and Dehart vineyards are not far from the winery in East Kelowna, while quartz-based Fritzi's Vineyard is in West Kelowna across the lake near Mission Hill Family Estate. The most geologically diverse site is the Naramata Ranch vineyard, located at the northern reaches of the Naramata bench, with rocky outcrops on a base of red granite and volcanic, silty soil. All grapes for Martin's Lane wines are sourced from each of the four vineyards and vinified and bottled separately. Yields are low and vines range from 10 to 40 years old, with some plantings of riesling dating back to 1976, among the oldest in the valley. All the vineyards are farmed organically, keeping with the commitment made by von Mandl Family Estates in 2016 to eventually transition all of its 1100-plus acres of Okanagan vineyards to organic farming.
In terms of the winemaking, Munn has been experimenting with longer periods of skin contact, natural fermentation and lees aging for the riesling, and never fines or filters the wines. The rieslings show a pureness and maturity of fruit and, like neighbouring Tantalus that opened a decade ago, are turning heads with sensory and complex wines that are unlike what we've seen to date in both the Okanagan and the rest of Canada. I was particularly taken by the 2014 and 2015 Fritzi's Vineyard rieslings, which are more saline and herbal than fruity or floral – savoury, delicate and compelling.
The pinot noirs are multifaceted with elements of both new and old world, though remain firmly grounded in the aromatic, cool-climate style that this part of the Okanagan expresses so well. They show grace and restraint, but are somehow fleshy, with the measured use of oak, permitting both fruit and site to shine through, all the while embracing and celebrating the temperamental nature of the grape.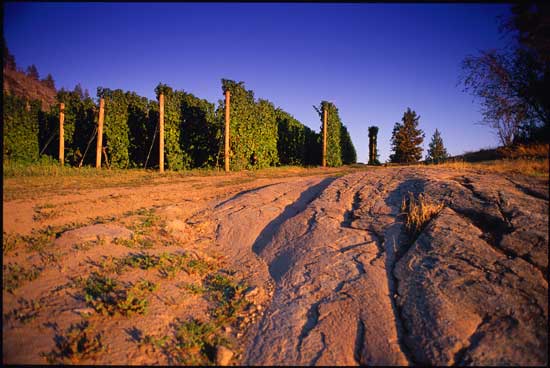 The Naramata Ranch 2014 and Simes Vineyard 2014 pinots are more floral and luscious than the 2014 Fritzi's Vineyard, though the latter draws you in and seduces with its delicacy and savoury palate, and was my favourite among the reds.
The annual production of Martin's Lane clocks in at around 3000 (12 bottle) cases and is split between 70 percent pinot noir and 30 percent riesling. This will eventually move to 90 percent pinot and 10 percent riesling, with overall production increasing to 10,000 or possibly up to 15,000 cases. It could take a decade or more to get to those numbers as the winery appears to be in no rush, preferring to grow gradually and focus on quality not quantity.
Current releases include the 2014 and 2015 rieslings from Fritzi's Vineyard, Naramata Ranch and Simes Vineyard along with the 2014 pinot noirs from these sites. The release of the 2015 pinot noirs later this year will include a fourth pinot from the DeHart Vineyard. Given the potential of some of the parcels from the Naramata Ranch vineyard, Munn anticipates additional single block pinot noirs to be bottled and released over the next few years.
Martin's Lane winery has already received international acclaim for its design and high ratings by influential writers, such as Steven Spurrier of Decanter magazine, for the inaugural vintage. The wines have also found a distributor in the competitive and exacting UK market after their debut at Canada House in London in the spring of 2017, and will soon be available in a selection of fine London restaurants.
Back in Canada, although the winery doesn't have a public tasting room or is yet open to the public, you can purchase the wines through the website and by signing up for the Martin's Lane wine club. A few bottles are currently available at the restaurant Waterfront Wines in Kelowna and through New District in Vancouver. More bottles will eventually be released through a select few retail outlets and restaurants. Prices range from $55 to $75 a bottle for the rieslings and $100 to $150 for the top of the line pinot noir.
Prior to establishing Martin's Lane winery, a Martin's Lane wine label was launched by Anthony Von Mandl's Mission Hill Family Estate; the first release was a 2009 Martin's Lane Riesling. There were subsequent releases of pinot noir under the label from fruit grown at The Ranch Vineyard on the northern end of the Naramata Bench, (formerly known as Paradise Ranch and purchased by MHFE in 2001) and from an East Kelowna vineyard acquired in 2005, both of which consist of substantial replantings of pinot noir. While the notion of having a standalone winery focused on pinot noir and riesling had been on Von Mandl's mind for a while, the idea gained momentum and came to fruition after the Martin's Lane Pinot Noir 2011 was named the "World's Best Pinot Noir under £15" at the Decanter World Wine Awards in 2013. The rest, as they say, including that early baragin price, is history...
Wine reviews by GOW's Anthony Gismondi; all photos by Nic LeHoux.