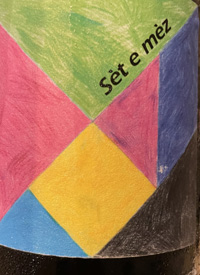 15½/20







Mirco Mariotti Sét e Méz 2020
Emilia-Romagna, Italy
Mirco Mariotti makes natural wines in the Bosco Eliceo area in the eastern part of Emilia-Romagna. The vines grow 300 meters from the Adriatic sea and many are well over 100 years old. They are gnarly non-grafted vines with roots that dig as deep as two meters in the sandy soil and into the aquifer below. Mariotti's wines are named after local card games the locals play. This natural fizz is entirely Fontana grape, from 100+ year old self-rooted vines. This sparkling rosé was macerated for 24 hours, then native fermented over the winter, before heading to bottle the following spring for 2nd ferment. This pours a lightly hazy deep peach hue, with wild cherries, strawberries, tart red currants and sour rhubarb on a brisk, bone dry palate. Very natty, finishing quite astringent.
Tasted:

24 June 2021
Tasted by:

Treve Ring
Prices:
BC 27.00 private wine shops
Producer:

Mirco Mariotti
Distributors:
Massey Wines & Spirits Ltd.

Grape:

Fortana