At the age of ten, some 80 kilometers southwest of Pézenas, Gérard Bertrand's father, Georges Bertrand, invited his son to work the harvest in his cellars at Domaine de Villemajou at Boutenac in Corbières in the Aude.
The idea was by the time he was fifty and hitting his winemaking stride he would have 40 harvests under his belt and possess more information than anyone in the region. Gerard is much humbler than that lofty thought, but during his four decades in every aspect of the industry, he has amassed a great deal of information and insight about growing wine. In this memoir, the former national team rugby player takes you on a journey from team sports to team wine, touching on history, his dreams for the south of France, his strong belief in the forces of nature, quantum physics and more. Bertrand's current empire includes 9 winemaking estates spread across 470 hectares of the best Languedoc terroirs – what he terms the crus of Languedoc. In his new and revealing book Wine, Moon and Stars - A South of France Experience, Bertrand explains his end game – wine must be pleasure; it must emphasize its terroir and it must stir emotion.
Rated: The Very Curious Oenophile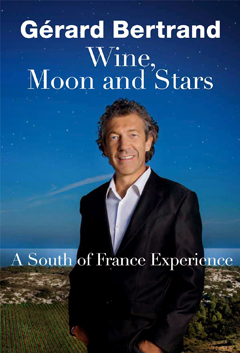 Product Details
Paperback: 304 pages
Publisher: Harry N. Abrams (May 19 2015)
ISBN-10: 1419718606 ISBN-13: 978-1419718601
$21.95
Treve tasted with Gérard Bertrand in June 2015 at the North American launch of his book and new premium wine, Clos d'Ora. Here are her reviews for Bertrand wines.
About The Library
We read as much as we write here on GOW. The Library is a personal list of recommended books to stock your wine library shelves with, including purchasing information from Amazon.ca.
Our rating system includes:
The Very Curious Oenophile – detailed reads on wine, people, places. For wine geeks.
Wine Reference Library – worthwhile reference you will refer to often
Wine and Food Enthusiasts – pairing and enjoying life's best things
The Muscadet of Books – light and easy to enjoy and understand
Written By: ag