Several bits and pieces today, beginning with a tale of two wine companies.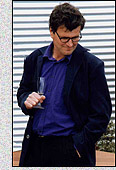 Less than three weeks ago I was extolling the virtues of New Zealand owned and operated Kim Crawford Wines, a producer known world- wide for its use of screwcaps and more to the point for using them on serious, premium wine.
Since then the 80,000-case Kiwi producer has been gobbled up Vincor International Inc., a Canadian wine conglomerate and fourth largest wine company in North American.
You may not recognize the Vincor name but you will no doubt be familiar with its many brands: Sumac Ridge, Hawthorne Mountain, Inniskillin Okanagan, Inniskillin Niagara, Jackson Triggs Okanagan Estate, Jackson Triggs Niagara, Nk'Mip, R. H. Phillips (California), Hogue Cellars (Washington State), Goundrey (Western Australia) and now Kim Crawford.
As it happened the Crawford purchase came after the Vincor brass decided to sever its distribution duties in the United States. In the tangled web of corporate winery ownership Vincor's purchase of California-based R.H. Phillips came with an agreement to distribute Kim Crawford wines in the U.S. That didn't sit well with Vincor's sales philosophy, which not surprisingly is to sell only the wines it produces to at the wholesale and retail level.
Yet upon further reflection and input from its U.S. sales force, Vincor executives learned that Kim Crawford was a plus in the sales portfolio. They sold effortlessly (always a plus with the sales force) and even better the Crawford wines opened doors to restaurants and retail shops that R.H. Phillips and the rest of the portfolio couldn't.
In short the hip, screwcap finished, refreshing Kiwi wines were an easy sell. So, why get rid of the brand? CEO Donald Triggs not only listened but he upped the ante by purchasing Kim Crawford Wines.
In my view, the purchase of Kim Crawford Wines is the best foreign investment Vincor has made and it's not about money. Despite its tiny production and geographical isolation, the little Kiwi winery has a bigger footprint in the ferocious U.K. wine market than the Canadian giant and if anyone at Vincor is willing to listen they may learn something from Kim and Erica Crawford about how to sell wine.
Kim Crawford, the winemaker, is an accomplished consultant to other New Zealand wineries and his experience in cool-climate winemaking would be a marvellous resource for Vincor to tap. Thanks to New Zealand's southern hemisphere location and reverse seasons that makes Crawford easily available to consult in Canada.
There is also the emerging business of screwcap wines. Vincor's stodgy marketing is firmly entrenched in the old natural cork wine camp while Kim Crawford is a global leader in screwcap technology. Could there be an important screwcap wine in B.C.'s future?
Written By: ag