The numbers are in.
The standings are out and the results impressive for the 2016 National Wine Awards of Canada. Let's look at the maths: 230 wineries across the country entered over 1500 wines, all of which were tasted blind over 5 days by 23 judges from 6 provinces and 2 other countries. Approximately 8000 glasses were poured by dozens of volunteers during the competition, with only 1% of the wines, 16 in total, being awarded the top Platinum Medal ranking.
In advance of BC Day, we highlight the Top 10 Scoring BC Wineries from the Nationals. While you can read about their top wines entered into this year's competition at the link, we've selected one of our favourite wines from each winery tasted at GOW over the past year.
89. Lake Breeze 2014 Pinot Blanc, Naramata Bench, Okanagan Valley. $19.
The quintessential BC pinot blanc is made at Lake Breeze most every year. The mid-valley site brings a fresh style with a mineral, pear and ripe apple notes on the nose. The attack is open with pear and apple skin notes followed by mouth-watering tropical fruit and pear notes. Great with goat cheese, halibut steaks and chicken/kale salads. AG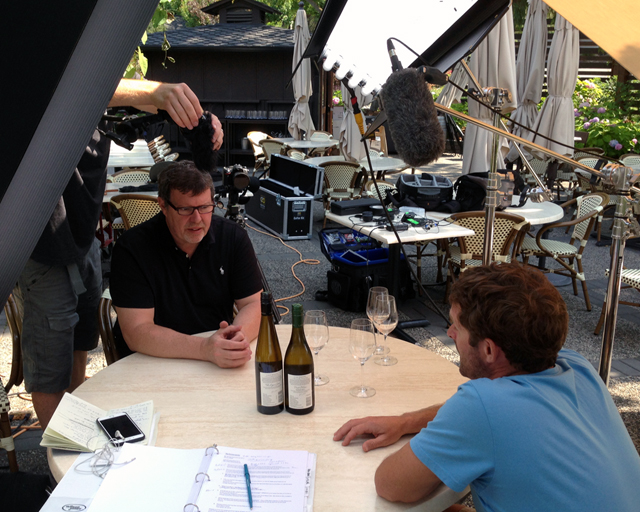 90. Road 13 Vineyards 2013 Roussanne Low Yield Wines, Golden Mile Bench, Okanagan Valley. $24.
We were impressed with this wine from its nougat, honeycomb, wax and white florals to its fat, rich roussanne character. The fruit is whole-cluster pressed and its ferment takes place in a concrete egg. The attack is full bodied, with a waxy mouthfeel, intense honeyed pear, creamy lees, vanilla and ample finely ground exotic spices. Not for the shy but there is a mid-palate, stony mineral thread that keeps it fresh and leaning toward balanced. It finishes warm at 14.6 percent but it only makes it better suited to rich lobster dishes. Well made with six percent viognier in the blend. AG-TR.
90. Meyer Family Vineyards 2014 Chardonnay McLean Creek Road Vineyard, Okanagan Falls, Okanagan Valley. $30
This wine is settling into a reliable pattern that make it a slightly skinny, fresh, complex and long chardonnay. The nose is nutty with lightly baked green apple notes that follows onto the palate with flecks of honey. The style is slightly austere with prominent acid all perfectly balanced by a hazelnut, buttery, citrus/green apple flavour profile. Love the complexity and length in the glass. A road map for future of BC chardonnay. The "McLean Creek Road Vineyard," owned by the Meyer family is in Okanagan Falls. It has a mostly steep southerly aspect; the soil is a mix of gravel and sandy loams. There are two separate blocks of chardonnay giving winemaker Chris Carson more options and likely more complexity. Only free run juice is ferment in stainless steel before heading to 100% French oak (27% new) to complete fermentation and go through the malolactic fermentation. There is zero battonage throughout its 11 months in oak. AG
89. Spierhead Pinot Gris 2015 Golden Retreat Vineyard, Kelowna, Okanagan Valley. $19.
Just loving the how chiselled and clean, fresh and bright the Spierhead wines are becoming. This gris is a delicious citrus, red apple-scented and flavoured wine that that is almost a riesling in pinot gris clothing. Love the juicy, almost northern Euro style. Stock up for weekend patio parties when you want to impress your friends with an impressive glass of white wine. AG
88. The Hatch Octobubble Brut Rosé, Okanagan Valley. $28.
I love where this fizz is going. New to BC, The Hatch came out of the gate with a bang due to their memorable and idiosyncratic labels. Crispy bright (swallowing up the 12 g/l RS), this brut rosé gamay from gloried Secrest Mountain Vineyard has spent twenty months on the lees. Light strawberry, cherry, red apple and meadow flowers though to the crisp and snappy finish. TR
89. La Frenz 2013 Ensemble, Naramata Bench, Okanagan Valley. $25
The 'Ensemblé' is blend or an assembly of sauvignon blanc and semillon all grown mid-valley on the Naramata Bench and put together with expertise by winemaker Jeff Martin. Love the racy, figgy, mineral chalky nose. The attack is fresh with bright juicy acidity and richer, passion fruit notes and a creamy, rich finish. Long persistent and well structured this wine will age through 2018 and get better in the bottle. Grilled fish anyone? AG
89. Moon Curser 2012 Dead of Night, Osoyoos, Okanagan Valley. $43
A 50/50 mix of syrah/tannat grown on the Osoyoos East bench area. The best syrah lots go into this substantial blend that is aged in 35 percent new French oak. Much fresher this year with dark cherry, floral violet notes that lead to a smoky/meaty blueberry and cherry jam fruit flavours. Give this three more years in bottle to really stretch its legs. Best with big fall dishes involving mushrooms. AG.
90. Church & State 2013 Coyote Bowl Series Cabernet Franc, Okanagan Valley. $35
Perfumed berries and downy, dusky blue fruit on the nose of this fresh cabernet franc. Ripe, perfumed black cherry, dense cassis is appealingly cut with a bitter black current edge, and lifted with well integrated freshness. Tannins are structured, well supportive of the density. Will cellar for 3-5 years easily. Try now with pork belly. TR.
92. CedarCreek 2014 Platinum Chardonnay Block 5 Chardonnay, Kelowna, Okanagan Valley.
This is from a single block of their estate vineyards, situated in a cooler, higher altitude site. MLF was blocked to preserve the purity of fruit, and this was fermented in a mix of French oak barrels, 500L puncheons and concrete before ten months on lees in concrete and puncheons. Broken stones and lemon pith are the gateway to an alluring green apple and wild herb textured palate, lifted with crunchy acidity and lined with earthy lees. Sea salt lingers on the very lengthy finish. Very impressive. Textured, complete and complex, and a baby still - I can't wait to see what this wine does with five+ years in the cellar. TR
89. Burrowing Owl 2013 Cabernet Sauvignon, Oliver, Okanagan Valley
This wine is consistent favourite for Treve and I'll admit it is one of the better south Okanagan bottles although most years the cabernet franc is better. The 2012 is big and deep structured with plenty of tobacco and dusty, savoury dried herbed classic southern Okanagan cabernet. Dark cherry, cassis and that dusty tobacco leaf fill this well-built wine, while figs, coffee, cinnamon bark and a whiff of cured meat linger in the finish. Still rich and while you can drink it now it will continue to knit with short term cellaring. Think beef. AG-TR
Written By: TR