We invited chef Derek Uhlemann, owner and founder of Oliver Eats Ltd., to create a menu of dishes made from local ingredients, inspired by and to pair with Sunrock Vineyards' wines. With a long history in the region as a chef and a winemaker, Uhlemann was the perfect person to pull the dinner together.
One of Uhlemann's goals behind creating Oliver Eats was to support and build the local farming community and so he knows the local farmers and producers well. The center of his catering operations runs out of a cafe in an industrial park in Oliver, the town just 15 minutes north of Sunrock Vineyards. In this video, Uhlemann and Anthony Gismondi connect the wines to the dishes, under the imposing shadow and overlooking the vineyards of Surock.

Sunrock Vineyards: Long Table Dinner
RELATED VIDEO: Sunrock Vineyards: Winemaking Video and Tasting Notes
RECIPE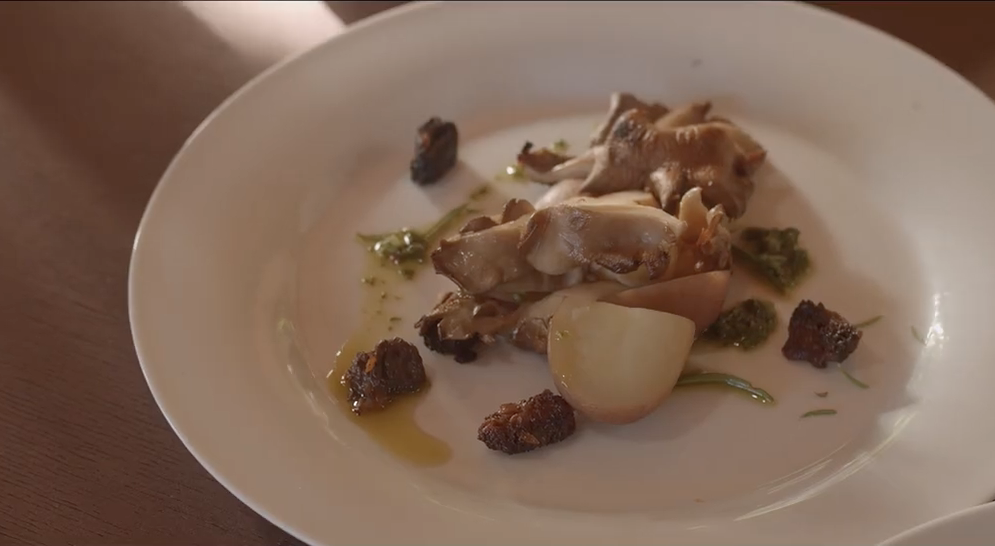 Okanagan Grilled Elm Mushroom, Warba Potatoes, Red Russian Garlic, Salsa Verde, Fresh Herbs
Pairing: 2016 Sunrock Shiraz
I love the earthy tones of the mushroom, potatoes, garlic and herbs as they pair with the Sunrock Vineyard Shiraz.
The dried fruit and black pepper complexity of shiraz from this site bring out the best in the fresh farm herbs, potatoes and mushrooms of this dish, perfect for fall wine dinners. ~Chef Derek Uhlemann, Oliver Eats
SALSA VERDE
Combine and rough chop or vitamix:
2 shallots
4 tbsp capers
4 cloves garlic
Juice of ½ lemon
200 ml grape seed oil
Handful fresh herbs - parsley, basil, chives, tarragon, etc
GRILLED MUSHROOMS
¼ lb elm/oyster mushroom
¼ lb crimini mushroom
¼ lb shitaki/shimeji mushroom
1 lb warba potato
3 tbsp sherry vinegar
2 cloves minced red russian garlic
4 tbsp chopped herbs (tarragon, parsley, etc)
1 tbsp extra virgin olive oil salt & pepper to taste
METHOD
1. Make salsa verde by combining ingredients and mixing.
2. Put potatoes chopped into ½ or ¼ depending on preference in cold salted water until covered and bring to a boil. When boiling has commenced remove from water and reserve.
3. Turn oven on to 425℉ or light bbq
4. Inspect mushroom for debris and clean if needed. Chop into desired shape matching potato size.
5. In a large bowl combine mushrooms, warm potatoes, ¾ chopped herbs, & garlic.
6. Drizzle mixture with ample salsa verde, sherry vinegar and toss to combine.
7. Grill mixture on barbq/cast iron pan in oven until mushrooms are softened and potatoes are cooked through. Cook until it tastes to your liking!
8. Return hot mushroom potato mixture to bowl , toss with remaining herbs, salt, pepper and salsa verde to taste and serve!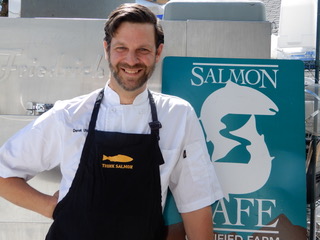 Chef Derek Uhlemann, owner of Oliver Eats Ltd
Written By: ag