Big news from Okanagan Crush Pad (OCP) as they have earned a slot in Decanter Magazine's prestigious year end list of the Most Exciting Wines of 2018, placing in the top 10.
In the just released January 2019 issue, Decanter's experts from around the world named the top 50 bottles under £60 (CDN $100) that impressed them most this year, with noted taster/author/storyteller Oz Clarke calling the Haywire 2016 Free Form White a "most astonishing" Canadian sauvignon blanc.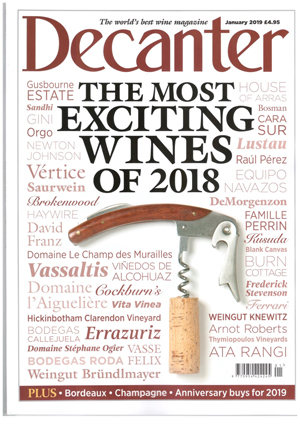 OCP has worked hard in the UK market and is over the moon to have been recognised by such an important sector of the wine trade. "We are so proud of our team, in particular the work of our chief winemaker Matt Dumayne, and growers Terry Waters and Cathy Banks," notes winery owner Christine Coletta. "Our mission is to have Okanagan wines stand proudly next to a global selection of respected brands. This recognition shows we are well on our way to demonstrating that our region can compete on the world stage."
The focus at Okanagan Crush Pad is on authenticity of place and expressing that in the highest quality wines. In the case of Free Form, the wines are made using organic grapes, native yeast, extended skin contact and are free of commercial additives, have little to no sulfites added, and are bottled unfiltered.
"We found the best way to achieve authenticity of place is to not manipulate or add anything to wine, including oak influence," remarks Dumayne. "While you need to give up some modern conveniences, with a highly-skilled team with global viticulture and winemaking experience, you can get it right."
Coletta also gives credit to consulting winemaker Alberto Antonini and terroir consultant Pedro Parra for their guiding influence. "Their vision for what the Okanagan is capable of has driven our work."
As is the Canadian way, this delicious natural wine that scored 94 points in London and 90 points at GOW (that's normally UK minus 3 or 4 ) failed its VQA test twice, revealing that while this is perhaps the best structured 'natural' wine in the country our unevolved VQA standards are structurally bankrupt and stuck in a 1990s time warp.
The 2016 Haywire Free Form White is long sold-out, but the Free Form concept has been so successful it has evolved into its own line. Free Form by Okanagan Crush Pad has absorbed parts of the Narrative and Haywire Free Form series that winemaker Matt Dumayne and the OCP team feel fit the range, although truth be told, all of their terroir-driven wines could qualify. There is no recipe, only concrete eggs, amphora, multi shaped and sized concrete tanks and a few foudres, plus place, people and time.
We captured the winery and its philosophy earlier this year on film.
Written By: ag