Blue Grouse Estate Winery & Vineyard has been sold to a group of prominent California vintners.
Second and third-generation Jackson family members Katie Jackson, Julia Jackson, Chris Jackson, Hailey Jackson-Hartford Murray, and MacLean Hartford have purchased the acclaimed Cowichan Valley producer, located on the east coast of Vancouver Island, British Columbia. The acquisition includes the winery property, tasting room, vineyards, and Blue Grouse and Quill brands.
This is the family's second foray into the Cowichan Valley following the purchase of Unsworth Vineyard in June 2020. Unsworth was purchased from the Turyk family by the Chairman and Proprietor of Jackson Family Wines, Barbara Banke, and her daughter Julia Jackson.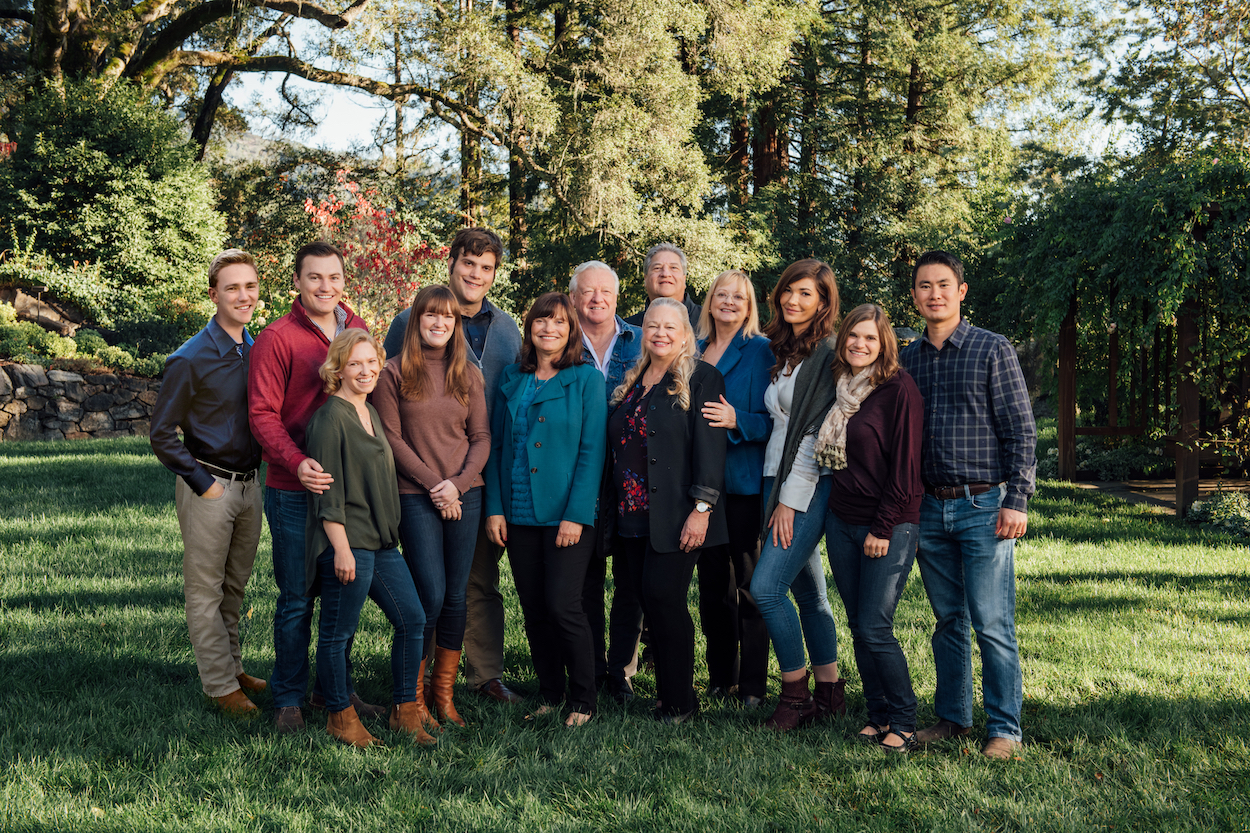 Second and third generations of the Jackson family that owns Jackson Family Wines, based in Sonoma, have purchased Blue Grouse Vineyards, adding to the family's interest in Vancouver Island, following Chairman and Proprietor Barbara Banke and daughter Julia Jackson's acquisition of Unsworth Vineyards in 2020 - photo courtesy of Jackson Family Wines.
The Jackson family says, "There is a natural alignment and shared vision between the Blue Grouse team and the next generation of the Jackson family, with their dedication to environmental stewardship and a strong outlook for the future. The Jackson family is constantly exploring and expanding into new wine regions. This acquisition offers the family an opportunity to diversify their global portfolio, which today includes vineyards in California, Oregon, Washington, Italy, France, Chile, South Africa, and Australia while continuing their steadfast focus on cool-climate regions." They see tremendous potential in Canada's Cowichan Valley, a cool-climate maritime winegrowing region with a penchant for producing premium Chardonnay and Pinot Noir.
The family is eager "To continue the momentum set forth by the Blue Grouse team. Together they will work collaboratively to help expand awareness of the Cowichan Valley among the wine trade and consumers while also building on the reputation it has already garnered."
The Jackson family has an impeccable record of buying properties that can stand alone and function as a premium brand in the real meaning of that word, not some marketing speak. With 40 properties worldwide, they have an enormous wealth of people and assets that can only help Blue Grouse reach for the stars on Vancouver Island and reinforce the notion that British Columbia is pursuing wine at the highest level. Indeed, this is a turning point for Island producers who now have the incentive to pull together and up their game with such a bright light shining on their output.
It is safe to say the Brunners have made an excellent decision and are leaving Blue Grouse in good hands. For its part, the Jackson family has consistently recognized that "Behind every successful winery are incredible people" and acknowledges the team's contribution to helping build one of Vancouver Island's premier wineries. The team at Blue Grouse will continue to manage the property, and its assets and the family looks forward to working alongside them to continue building upon its success and reputation.
The acquisition will include "Most assets of Blue Grouse that the Brunner family has built over the past ten years of ownership, including the winery and tasting room property plus five vineyard properties, vineyard and winery equipment, wine brands Blue Grouse and Quill, and most inventory. In the Brunner family's tenure owning and operating the winery, many enhancements were made, such as creating a beautiful modern tasting room with sustainable aspects featuring a geothermal system to capture the Earth's energy for heating and cooling and implementing a water reduction system. On the viticulture side, the Blue Grouse winery team led efforts to help establish the island's first official Sub-Geographic Indication, a true commitment to the local-first focus shared by many in the Cowichan Valley. Situated on one of the oldest vineyards on Vancouver Island, Blue Grouse is also a leader in environmental sustainability and shares this vision and values with the Jackson family."
About Blue Grouse Estate & Winery
The Blue Grouse Estate Winery is located south of the Cowichan Valley on Vancouver Island, British Columbia. It is about 8 kilometres south of the town of Duncan, 50 kilometres north of Victoria, or 60 kilometres south of Nanaimo at about 1 kilometre west of the Trans Canada Highway. For information about visiting Blue Grouse Estate Winery or to purchase wines, visit www.BlueGrouse.ca.
About Jackson Family Wines
Jackson Family Wines is a family-owned, vineyard-based company with a penchant for exploration. Founder Jess Jackson placed his faith in farming and a meticulous expression of wine with his first landscape-changing vintage in 1982, an ethos that chairman Barbara Banke, the Jackson family, and our employees continue to uphold to this day. The Jackson family's  40 wineries span significant winegrowing regions, from California, Oregon, Washington, France, and Italy in the northern hemisphere to Australia, Chile, and South Africa in the southern half of the globe. Vineyard ownership and sustainable practices remain critical to consistent quality, and artisan winemaking underscores a steadfast commitment to making wines of character and integrity.
The family-owned and led company also leads industry-wide efforts to reduce carbon emissions, invest in renewable energy, deploy regenerative farming practices in its estate vineyards, and drive positive social impact in its local communities. In 2019, the Jackson Family co-founded International Wineries for Climate Action (IWCA) in partnership with the Torres family of Spain to galvanize the global wine industry and address climate change through meaningful collaborations and innovative carbon reduction strategies. Please visit www.JacksonFamilyWines.com for more information.
Written By: ag