It was encouraging to see so much plant growth in the south Okanagan during the recent May long weekend.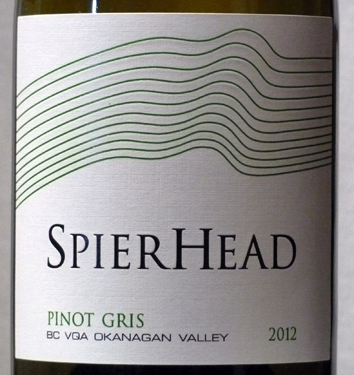 It's far too early to be saying anything substantial about the state of the 2013 crop, but to the naked eye many vineyards in the south, where most of the late ripening red grapes reside, appeared to be off to a good start.
Next up is flowering, a crucial stage in any growing season. Owners pray for warm, dry weather and calm winds around and after bloom to promote a successful fruit set. This ensures a healthy sized crop and sets the tone for all farming decisions for the rest of the year.
Speaking of crop size, the 2012 crop report is out and there are some interesting developments in wine country. First let me say that for a valley vehemently opposed to sub-appellations, there doesn't seem to be any problem reporting where all the grapes are grown. Maybe there is hope yet for a more meaningful division of British Columbia wine country beyond VQA Okanagan Valley, especially given the high price of domestic wine.
In terms of size, 2012 marks the return to a more normal crop size after several challenging vintages. Overall, the increased production reflects a substantial gain over the previous year, from 22,722 short tons in 2011 to 27,257 tons in 2012. It's not easy to know what such an increase will mean, but even in the highly complicated sales channels B.C. wines operate from, a large crop won't necessarily mean lower prices for consumers. That said, not every bottle of B.C. wine is on allocation and as wineries and production proliferate, the spoils, in terms of the best prices, are likely to gravitate toward the very best wines.
The crop figures are provided by BDO Canada LLP with a nod to the British Columbia Wine Institute, BC Grapegrowers' Association, the BC Wine Authority and the BC Wine Grape Council for their assistance. Although participation in the survey was voluntary and unaudited for the most part, it is likely to parallel the actual tonnages and prices reported by industry.
Let's begin with the big picture. Leaving Vancouver Island out, Oliver boasts 51.56 per cent of the total tonnage picked in 2012. If you add the Osoyoos tonnage at 12.99 per cent, the Oliver/Osoyoos sub-region is responsible for 64.55 per cent of all the fruit grown in B.C. The remaining production is listed as: Penticton 11.64 per cent, Kelowna 5.55 per cent, Westbank 4.72 per cent, Similkameen 3.70 per cent, Okanagan Falls 3.13 per cent, Summerland/Peachland 2.89 per cent, Lake Country 2.2 per cent and the Fraser Valley at .62 per cent.
With respect to our top 10 favourite grape varieties, Merlot still leads all grapes grown in the valley with 5,636.9 tons grown in 2012 versus 4,829.7 in 2011. The somewhat early ripening red with soft tannins is a popular varietal pick and is being used more and more in red blends along with Cabernet Franc reducing the importance of the notoriously difficult to ripen Cabernet Sauvignon.
Number 2 in tons is Chardonnay with a 2012/2011 tally of 2,979.6/ 2,480.9. Chardonnay is enjoying a bit of a renaissance, at least at the high end, with more emphasis on the leaner, crisper, more complex style associated with many well-made cool-climate examples.
The No. 3 spot goes to the ubiquitous Pinot Gris with a 2012/2011 split of 2,787.6/ 2,331.0 tons. Given how commercial this variety has become, I would suggest 3,000 tons of B.C. Pinot Gris are enough for the planet.
It's nice to see Pinot Noir jumping past Cabernet Sauvignon. In 2012, the heartbreak grape topped out at 1,980.9 tons versus 1,964.4 of Cabernet.
The final five grapes run out from 1,512.6 to 1,309.4 tons beginning with Gewürztraminer, followed by Sauvignon Blanc, a hard-charging Cabernet Franc, Syrah/Shiraz and Riesling.
---
Château Ste. Michelle Riesling 2011, Columbia Valley, Washington, United States
Price: $17 | Score: 87/100
UPC: 088586621840
Open, sweet, ripe nose of baked apples with floral, honey and lime juice notes. The attack is fresh and round with more sweet, red apple, pink grapefruit and lime flavours. Baked green apple, lime, grapefruit, honey, floral flavours. A full-blown style of Riesling you can serve with spicy ribs or Indian curries. Good value and ready to drink all summer. Good value.
337 Lodi Cabernet Sauvignon 2011, Lodi, Central Valley, California, United States
Price: $20 | Score: 87/100
UPC: 082242280433
The 337 moniker refers to the French Cabernet Sauvignon clone 337. This wine has proven to be a solid performer for $20: from its inviting blackberry and black cherry fruit nose to its similar palate flecked with chocolate and cedar. A soft, spicy, easy-sipping Cabernet.
Tedeschi Corasco Appassimento Breve Corvina -- Refosco -- Raboso 2009, Veneto, Italy
Price: $25 | Score: 89/100
UPC: 008019171001275
Big black cherry, licorice, resin, savoury, floral nose with almond/cedar and chocolate aromas. The attack is fresh and smooth with a juicy palate. Strawberry jam, black cherry, spicy, savoury, tobacco flavours mix with a light chocolate and licorice note. Fresh, vibrant fruity finish with acidity that should go well with pork, duck and turkey.
Romain Duvernay Vacqueyras 2009, Rhone Valley, France
Price: $28 | Score: 88/100
UPC: 003760184620377
Very peppery, black raspberry jam, blackberry, meaty, floral, chocolate, graphite aromas. Dry, fresh, slightly tannic entry with orange peel, black raspberry, chocolate, meaty, savoury, leather flavours. Solid fruit but lacks texture and a bit of length.
Sandalford Cabernet Sauvignon Estate Reserve 2009, Margaret River, Western Australia, Australia
Price: $35 | Score: 89/100
UPC: 009312175008011
The '09 is a 92/8 mix of Cabernet Sauvignon and Shiraz at has been described as one of the best vintages in the Margaret River. This needs bottle time but if you want to drink it now, serve it with a grilled T-bone steak to tame the elements.
Cockburn's Special Reserve Porto N/V, Douro Valley, Portugal
Price: $23 | Score: 88/100
UPC: 5010278021169
Since acquiring Cockburn's in 2010, the Symington family has been quick to renovate and renew the brand, and getting back to the original Reserve Port is the immediate goal. Cockburn's Special Reserve goes through a lengthy period in wood (four to five years) before release. So it is no surprise that Cockburn's boasts the most wood casks in Gaia and the only one with its own dedicated team of coopers. There's fine richness here with more body than the Ruby, (super Ruby?) and better length. Look for spicy, cherry fruit f++lavours given a slightly longer fermentation process that leads to a less sweet finish with more grip. Once opened it will keep well for several weeks. Great with cheese or nutty cakes and chocolate.
Written By: ag