I well remember my first wine class.
Not more than twenty years old, knowing next-to-nothing, and practicing things like pronouncing gewürztraminer and spitting in public. Everything was blurring together in a sangria of names and soils and fruits and regions. But one grape really stuck out. Riesling. "Many wine lovers believe this is the greatest grape variety in the world, capable of extraordinary feats of vinous magic", my teacher enthused. Zing. Like the first lick of Mosel riesling on the tongue, I was struck. My affair with the ancient and noble riesling had begun.
This highly aromatic grape, dating back to the 15th century Rhine Valley in Germany, is aptly capable of making a wide range of styles – from achingly crisp and bone dry, to unctuously sweet and everlasting, plus bright and lively sparkling. Hardy riesling does best in poor soils that are well draining (ideally slate and sandy clay) and responds well to a long, slow ripening period, which is why it stars in Germany. Unlike many white canvases, this grape is all about purity of fruit; new oak can muffle and overwhelm the subtle floral, citrus aromatics and flavours. But riesling's most potent draw is its natural and piercingly high acid, providing the wine with tremendous aging potential and allowing it to nimbly balance out ridiculous levels of residual sugar. The highwire balancing act between razor acidity and ripe sugars is an addictive effort – both for the vintner and the consumer.
And for the forever-wine student, like me. I'm writing this on the flight home from Germany, where I've just been schooled in riesling once again. This week I attended the 2016 Grosses Gewächs (GG) tasting in Wiesbaden, where select estates showcase their top wines from the previous vintage (and a smattering of 2014 wines). All the producers in attendance were members of the invite-only VDP, Verband deutscher Prädikatsweingüter, a.k.a. Association of German Prädikat Wine Estates. Spread across all German wine regions, this is a group of high quality-oriented German vintners who are committed to terroir-driven wines. The VDP is not part of the maze and mire of official German wine law, but rather an in-house statute of the Pradikat estates, making up three percent of the total annual German crop. The association was founded in 1910, and claims itself as the world's oldest national association of top-quality wine estates. Back then, it was a founding group of four estates, and today it has grown to 198. There are strict self-imposed quality standards, covering everything from yields to grape varieties.
The VDP, recognizable by a stylized eagle bearing a cluster of grapes on the capsule, have a four-tier quality pyramid that began with the 2012 vintage, with classification levels binding only for member estates. Grosse Gewächs (GG) are the top wines from the top tier, and the wines making up this annual tasting. GG wines are trocken (dry), with less than 9 g/l RS, and are packaged with a special bottle embossed with GG. This peak of the pyramid is Grosse Lage, sites that are the equivalent of Grand Cru, recognized for having exceptional terroir and growing traditional varieties best suited to site and region. Below that you have the Erste Lage, or Premier Cru sites, followed by Ortswein (superior, village-level wines) and Gutswein (regional wines from a VDP member's estate wines).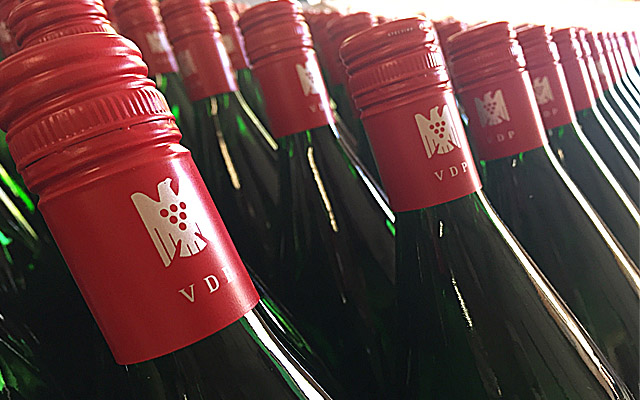 The VDP tasting runs like German (cuckoo?) clockwork. Invited members of the trade taste select wines flighted by grape, town and site. You taste at your own pace, filling out and handing off your desired flight card to a fleet of smartly dressed "wine butlers". This young team of professionals brings your wines to your personal seat, and pours for you. I tasted through all the Mosel-Saar-Ruwer rieslings, cherry-picked through flights in the Rheinhessen and Rheingau, and then through all the silvaner. I spent the better part of five hours tasting, tapping away on my laptop, and expanding my german (wine) vocabulary. 2015 was a short and sweet vintage. The unusually hot and dry summer saw record temperatures broken, before ample rainfall in the beginning of September swelled some water-deprived grapes and forced many vintners to harvest early. While yields may have been reduced, the GG wines show concentration and generosity, with power and weight that is drinking attractively in youth. I've listed brief tasting notes below for highlights from the 100+ wines I tasted. There were more than 400 wines at the tasting, so this is by no means an exhaustive overview, but rather my introductory impression and summary. My top picks were those carrying ample acidity, savoury minerality and with defined structure to balance the impressive intensity.
Mosel 2015 GG
Heymann-Löwenstein Uhlen, "Blaufüßer Lay", Winningen
Earthy, crunchy, savoury. Herbal and wild salts. Great lean drive of minerality. 93
Schloss Lieser, Sonnenuhr, Wehlen
Smoked stones. Flinty, reductive and powerful. Fine grip. Structure. Tight and finessed. Powerful in youth, with a long ways to go still here. 93+
Geheimrat J. Wegeler, Sonnenuhr, Wehlen
Super expressive nose. Savoury and light earthy / salted herbals. Anise and energy. Impressive in youth. Great grip, light and welcome waterness mid - palate. 94
S. A. Prüm, Domprobst "Prevot", Graach
Lean and driven, with focused green apple, tight spicing throughout. Lovely linearity. Savoury edged with a lean frame. Very long finish. 93
Clemens Busch, Marienburg "Fahrlay", Pünderich
Buttery. Yellow fruit. Fine grip. Tightly spiced and youthful. Hum and grip reverberates to finish. Impressive in youth; long ways to go. 92+
Geheimrat J. Wegeler, Doctor, Bernkastel
Roasted stones. Ample and elegant earthiness, wild herbs, fine salts. Meadow herbs and light pear skin, very subtle citrus. Minerality and slate. Tight, youthful and lean. Pithy grippy, lengthy finish. 94
Reinhold Haart, Grafenberg, Piesport
Brown butter. Juicy and mouthwatering. Great spiciness, with savoury, salty, herbal lick. Tight, focused frame. Very good length and drive throughout. Pulse. 94
Reinhold Haart, Ohligsberg, Wintrich
Juicy bright green apple. Lightly smoked stones. Green apple grip to the frame. Lovely drive. Lean. 93
Schloss Lieser, Niederberg Helden, Lieser
Reductive, but works here. Smoked stones offset by ripe pear, green apple, tight, fine minerality, stoniness. Light honey and throughout, a smooth, linear flow. Young. 94
Saar 2015 GG
van Volxem, Scharzhofberger, Wiltingen
Light reduction appealing. Spice, pear skin, salts. Herbal and earthy. With energy and verve. Juicy, mouthfilling. White pepper on the lingering finish. 94
van Volxem, Volz, Wiltingen
Light reductive note. Light salts, herbal spicing carried by juicy linearity. Spicy, with vibration of minerality. Pear skin. Energy and drive through. Elegant, fine frame. Savoury. 93.
von Othegraven, Bockstein, Ockfen
Pear skin. More concentration. Anise hints. Lovely salty minerality. Lean, lithe. 92+
Rheingau 2015 GG
Peter Jakob Kühn, St. Nikolaus, Mittelheim
Honeycomb, pear skin. Concentrated, with pear butter, savoury sheen. Earthy. Powerful and complete. Fine layer of earthy lees. Smoked stones on lengthy finish. Long ways to go here. Alive. 94+
Josef Spreitzer, St. Nikolaus, Mittelheim
Ginger. With warm, white peppery spicing. Medicinal, apothecary notes and an exceptional length. Narrow. 93
Peter Jakob Kühn, Doosberg, Oestrich
Very honeyed pear, full and concentrated, with very fine hum of anise, spices, stones. Rounder in mouth, smoothed edges with generosity. Juicy. Vibrant. 92+
Rheinhessen 2015 GG
Wittmann, Kirchspiel, Westhofen
Pear skin bitterness appealing. Great concentration, drive and verve, tighter framed. With fine spice. Lemon pith. Great white pepper on the lingering finish. 93
Franken Silvaner 2015 GG
Juliusspital Würzburg, Stein, Würzburg
Eraser. Peach, apricot and peach fuzz. Great spicing with a bitter riffy grip and hum of minerality. 92+
Bürgerspital zum Hl. Geist, Stein-Harfe, Würzburg
Ripe pear, yellow apple. Bright, but more generous in the palate. Orange and yellow toned fruits. Brisk, persistent spicing through a lengthy finish. Sheen of pear. 92+
Bürgerspital zum Hl. Geist, Stein, Würzburg
Broken stones, dust. Lovely herbal bent. Spicy. Streamline. Wild herbs. Grippy and salty on the lengthy finish. 92
Written By: TR