In episode three of our icewine series, Inniskillin's Estate Chef Tim Mackiddie explains how in recent years icewine has become a secret ingredient for many chefs who love its high acid and sweet demeanour.
Mackiddie shares with us some of his best pairing ideas - it's not just for dessert - and then demonstrates some of his most popular Inniskillin recipes in the estate kitchen, some that may surprise you, some you may make you wonder why you hadn't thought of them before. Look below the video for Chef Mackiddie's onion soup recipe, seen in the video.
RECIPE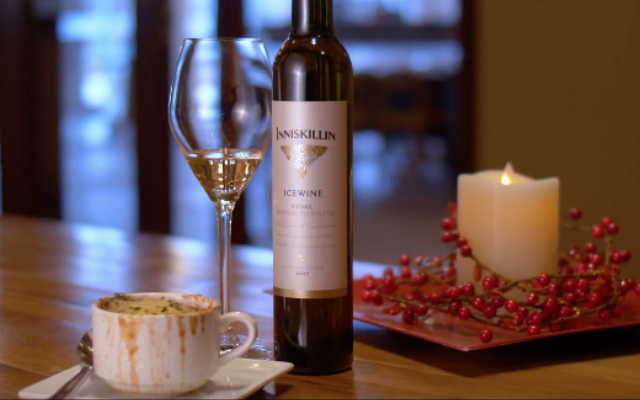 Inniskillin Vidal Icewine French Onion Soup with Sourdough Crouton
By Chef Tim Mackiddie
Ingreditents
4 Spanish Onions, sliced thinly
30ml (2 tbsp) canola oil
120ml (1/2cup) Vidal Icewine
1 small bunch Fresh Thyme, chopped
1L good quality chicken or beef stock
4 slices of sourdough bread
4 sliced of your favourite cheese, we love Niagara Gold!
Method
Add 30ml of oil to a large saucepot and heat on the highest setting.
When the oil is almost smoking add in all of the onions, allow them to gain colour before stirring, this should take 2-3 minutes. Stir and then lower heat to medium.
Repeat this process. Allow the onions to gain colour (letting them cook untouched for 2-3 minutes) then stir. Continue this until fully caramelized. This total procedure should take roughly 25 minutes.
Add in the Icewine and reduce to a syrup consistency.
Add stock and thyme, turn to low heat and simmer for 30 minutes.
Season your soup with salt and pepper to taste.
Ladle the soup into oven friendly soup bowls
Top the sour dough slices with cheese and place on top of the soup.
Toast under broiler until cheese is brown and bubbly.
For more Icewine recipes: Inniskillin
CANADIAN ICEWINE SERIES:
Part One: History: Canada is not too cold for wine after all
Part Two: Harvesting Icewine
Written By: ag