Gismondi on Wine is Western Canada's leading source of industry news, wine tasting notes and stories.
When Anthony Gismondi decided to share his tasting notes in 1997 online, his website instantly became an international resource for the industry and wine enthusiasts. It remains so today reaching 114 countries and major cities such as London and New York, as well as every major Canadian city, while serving British Columbians who make up 70% of our readers. In August 2019 we launched a free monthly newsletter with tasting notes and articles. Our subscriber base has grown steadily since. We've averaged excellent open and click through rates, currently at 66.6% and 25.4% respectively. Our newsletter audience is slightly more local than our website with 78% of subscribers in British Columbia. Vancouver, Kelowna and Victoria are our top three cities. We reach major Canadian cities in every province as well.

Website
Big Box
We offer three Big Box (300px x 250px) units that run stacked above the fold in the right rail on desktop and tablet and front and center separated by one or two
story blocks in mobile. They appear on every page of our website and rotate with every page refresh. These are excellent for keeping your wines top of mind, for LTO, for key buying periods, for wine releases and brand awareness.
Book in one month or two week increments. We book a limited number of ads each month to make sure that a minimum of 300K pageviews are reached per ad each month (or 150k every two
weeks).

Newsletter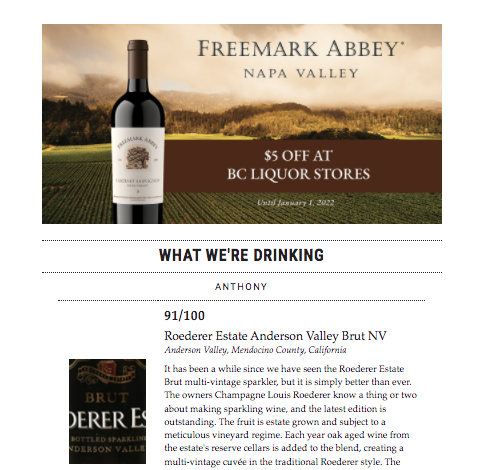 Banners
Gismondi on Wine offers three large banners in our monthly newsletter (600px x 300px) They are beautiful, high impact units that are excellent for premium products, LTOs and brand awareness. The newsletter has a slightly older audience with slightly more males than the website. With just 12 ads per year per position, they go quickly. In a recent survey, 82% of respondents selected "Wine Releases" as the most enjoyable element of our newsletter. 53.6% said they were "looking for new wines" to buy. The ad units are not just for wine distributors however, but also for those advertisers looking to promote a lifestyle that attracts our readers, such as travel, fine food, luxury goods, finance and fitness.
Sponsored Community Post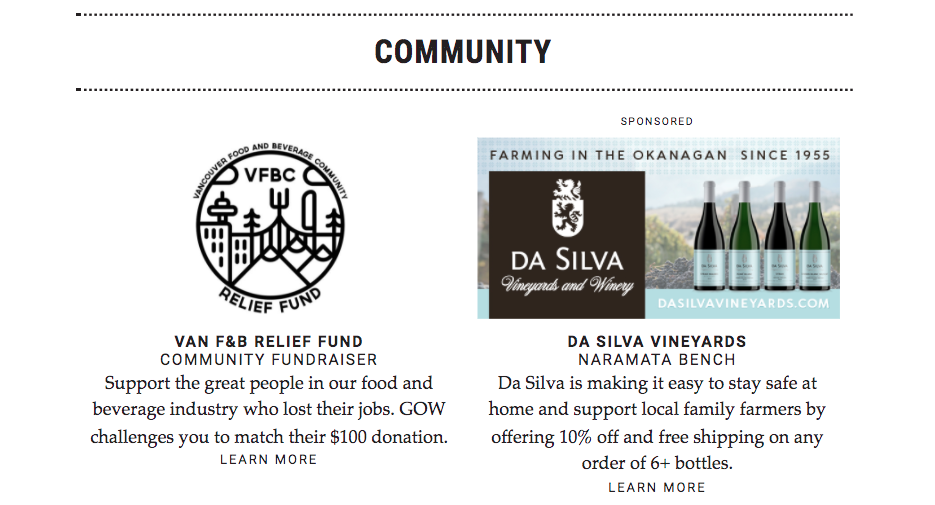 These are very affordable spots similar to a classified ad but with a photo. They run amongst our event listings. They can be used to promote services and products that would appeal to our wine drinking audience and their lifestyles. Gourmet food, wine and food events, auctions, education, luxury accommodations and goods are appropriate here. Just $100 per post.
Request more information on recent demographics, ad rates and special offers from Cheri Caleb .
Written By: